Publication:
ECREHAB: ecosistema para herramientas software de rehabilitación cognitiva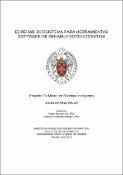 Files
Authors
Advisors (or tutors)
Editors
Abstract
En la actualidad más de 36,5 millones de personas en el mundo sufren algún tipo déficit o deterioro cognitivo causado por daño cerebral adquirido o enfermedades neurodegenerativas. Expertos en neuropsicología trabajan en técnicas, programas y herramientas que permitan a estos individuos disfrutar de una mejor calidad de vida. Las herramientas asistidas por ordenadores son, a día de hoy, piezas fundamentales en estos tratamientos. Durante más de 40 años las ciencias de la computación han tratado de ofrecer diferentes tipos de soluciones en este campo. No obstante, aun cuando los desarrollos software proporcionan utilidades importantes para abordar el problema del tratamiento y diagnostico de estas enfermedades se constata que la oferta actual son principalmente entornos cerrados y no existen iniciativas de trabajo abiertas y ampliamente aceptada que permitan potenciar el interés y la calidad de los nuevos desarrollos mediante una participación más activa del personal médico implicado. Para abordar algunas de las carencias detectadas, este proyecto propone las herramientas necesarias para facilitar la aparición de un ecosistema abierto de aplicaciones de rehabilitación cognitiva (eCRehab) que proporcione los beneficios obtenidos en otras áreas de trabajo como son la educación o la salud, que cuentan con diversos tipos de especificaciones y estándares para fomentar estos ecosistemas que permiten entre otras características la interoperabilidad o reusabilidad de elementos que forman parte del mismo. [ABSTRACT] Nowadays more than 36.5 million people around the world suffer from some kind of deficits or cognitive impairment caused by acquired brain injure or neurodegenerative diseases. Neuropsychologists are working on techniques, programs or tools to provide these individuals to increase a better well-being. Computer-assisted tools are today essential parts in these treatments. For more than 40 years of computer sciences have been trying to offer different kinds of solutions in this field. Nevertheless, although the software development provide important tools to tune the approach on diagnostics or treatments on these disease, is verify that the current bid are especially filled by closed environments and there are no public initiatives framework highly accepted that enhances the interest and quality of new development through interaction with medical staff involved. To overcome some of the shortcomings detected, this project proposes the proper tools to facilitate the generation of an open ecosystem of cognitive rehabilitation developments (eCRehab) that provide the existing huge enhancement on other areas of work such as education or health, which features various types of specifications and standards to promote those ecosystems that among other features like interoperability or reusability of elements that belongs inside of it.
Description
Máster en Investigación en Informática, Facultad de Informática, Departamento de Ingeniería del Software e Inteligencia Artificial, curso 2012-2013