Publication:
Preparación de co-cristales farmacéuticos, aductos y composites usando CO₂ supercrítico como antidisolvente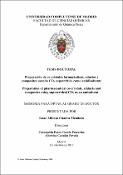 Advisors (or tutors)
Editors
Publisher
Universidad Complutense de Madrid
Abstract
El éxito de un nuevo principio activo depende de propiedades esenciales tales como: solubilidad, biodisponibilidad, velocidad de disolución, estabilidad fisicoquímica y cristalinidad. La mayoría de los nuevos principios activos que la industria farmacéutica saca al mercado pertenecen a la categoría II del sistema de clasificación biofarmacéutica, es decir, presentan baja solubilidad y alta permeabilidad. Es por ello por lo que los investigadores debemos encontrar vías de mejora en la formulación de los principios activos para que puedan superar estas limitaciones y por tanto, mejorar sus propiedades. En esta tesis se exploran algunas de estas vías: Micronización: La reducción del tamaño de partícula de un principio activo puede aumentar su velocidad de disolución debido a un incremento en su área superficial y mejorar su absorción intracelular. La reducción de tamaño del principio activo posibilita también el uso de distintas rutas de administración...
The success of a new active pharmaceutical ingredient (API) relies on essential properties such as solubility, bioavailability, dissolution rate, physicochemical stability, and crystallinity. Most of the new APIs brought into the market by the pharmaceutical industry belong to class II in the biopharmaceutics classification system (BCS), i.e., low solubility and high permeability. Researchers are therefore urged to find paths of formulation development that could overcome the APIs drawbacks and enhance their properties. In this thesis we explore some of these paths: Micronization: The reduction in size of an API can increase its dissolution rate due to an increase in its surface area and can also improve the intracellularuptake...
Description
Tesis de la Universidad Complutense de Madrid, Facultad de Ciencias Químicas, Departamento de Química Física, leída el 12-06-2019
Collections