Publication:
Las máscaras del hombre melancólico. Amor y muerte : de la identidad a la épica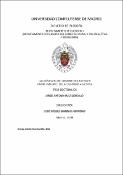 Files
Authors
Advisors (or tutors)
Editors
Publisher
Universidad Complutense de Madrid
Abstract
La presente investigación se basó en el estudio y el análisis de la melancolía en las obras de Sigmund Freud, así como también en el estudio y análisis histórico a través de diferentes fuentes literarias que abarcan desde la edad media hasta la modernidad. Se analizó para las obras de Freud las características del hombre melancólico y el hombre en duelo para poder posteriormente proponer tres figuras llamadas "Las máscaras del hombre melancólico". De la misma manera se analizó al hombre melancólico en los diferentes momentos de las épocas mencionadas para luego ir desarrollando sus posteriores máscaras. Tanto en la obra de Freud como en los capítulos siguientes, se investigó el tema del amor y la muerte, ligados siempre en relación al hombre melancólico y sus máscaras. Se propone que la diferencia del hombre melancólico y sus máscaras radican en la sutil diferencia con la que se comportan ante el amor y la muerte; es esa diferencia la que hace del hombre melancólico un problema de identidad al tiempo que sus máscaras desarrollan una épica. Se concluye con un breve comentario sobre la actitud ante la muerte en la cultura mexicana, basándonos en los principios mencionados, proponemos el personaje del mexicano como una de las máscaras del hombre mexicano.
Present research is based on Sigmund Freud's study and analysis of melancholy, in addition to the study and historical analysis through different literary sources from the Middle Ages to Modernity. Melancholic Man and Man in Mourning characteristics were analyzed for Freud's works in order to be able to propose three characters later, called "The masks of the melancholic man". In the same way, Melancholic Man was analyzed in the same different moments of the periods mentioned before, to develop his mask too. Both Freud's works and subsequent chapters, the subject of Love and Death were always investigated in relation to the Melancholy Man and his masks. It is proposed that the difference between the Melancholic Man and his masks lies in the subtle different behavior facing love and death; that difference makes that Melancholy Man has an identity issue while his masks develop an epic. We conclude with a brief commentary on the attitude faced death in Mexican culture. Based on the principles mentioned above, we propose the Mexican character as one of the Mexican man's masks.
Description
Tesis inédita de la Universidad Complutense de Madrid, Facultad de Filosofía, Departamento de Filosofía del Derecho, Moral y Política II (Ética y Sociología), leída el 15-06-2017
Collections