Publication:
Estudio cuantitativo y comparativo entre las distintas zonas dadoras corticoesponjosas intraorales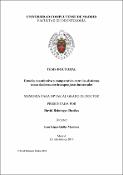 Files
Authors
Advisors (or tutors)
Editors
Publisher
Universidad Complutense de Madrid
Abstract
A nivel odontológico los injertos autólogos mayormente utilizados para defectos óseos pequeños y medianos son los injertos autólogos intraorales, siendo los de rama-cuerpo y sínfisis mandibular los más empleados. A pesar de sus notables ventajas, ambos exhiben una gran cantidad de complicaciones postoperatorias. Debido a esto es que diversos autores han publicados nuevas zonas dadoras intraorales como alternativas a las utilizadas comúnmente, que potencialmente puedan producir una menor cantidad de complicaciones.Objetivo: Evaluar y comparar el grosor de cortical, grosor de medular, área de superficie y volumen de las diferentes zonas dadoras intraorales alternativas.Material y método: Se realizó un estudio observacional descriptivo, en donde fueron seleccionados al azar escáneres (Cone Beam) del Servicio de Radiología de la Universidad Complutense de Madrid. En los cone beam se analizaron los grosores tanto de cortical como de medular, área de superficie y volumen de cada una de las zonas dadoras intraorales. Como zonas dadoras fueron analizados la sínfisis mandibular, procesos coronoides, fosita mirtiforme, zona palatina, proceso cigomático-alveolar, cuerpo cigomático, zona palatina anterior y tuberosidad...
Besides the multiple disadvantages of autogenous bone graft, such as greater mortality rate, their limited amount and unpredictable reabsorption, they are still considered the "gold stándard" among their pairs, due to their characteristics of being osteoinduction, osteoconduction, showing osteoprogenitor cells.From a dental-practise perspective, the autogenous bone graft most commonly used for small and medium bone defects, are mandibular body, ramus and symphysis donor sites. These have the advantages of being: a dense bone with adequate cortical and cancellous bone, adequate volume for defects of 2 to 3 teeth, require a a relatively short period of integration (between 4 to 6 months) and show minimal reabsorption. Besides their noticeable advantages, both kinds graft have the downside of generating a large amount of post operatory complications. This is the reason why several authors have researched new intra-mouth donor areas as alternatives to commonly used one, that have the potential to produce less amount of complications. Donor areas that have been less studied, both radiologically nor in corps or clinically, with research that endorses their utilization...
Description
Tesis inédita de la Universidad Complutense de Madrid de la Facultad de Odontología del Departamento de Especialidades Clínicas Odontológicas, leída el 19-12-2018
Collections