Publication:
Black-box Testing of Quantum Systems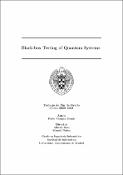 Authors
Advisors (or tutors)
Editors
Abstract
Quantum Computing is a growing field in Computer Science, Physics and Mathematics because it presents stunning results in solving very complex problems faster that any classical computer. However, the physical difficulties that Quantum Mechanics presents, added to the complex development of quantum algorithms, made the field to be very prone to errors. Thus, ensuring the quality of the devices and algorithms will take a very important role in the future of the field. In this Thesis we present a brief introduction to Quantum Mechanics, followed by a new possible testing framework based on a formalism that we call Hybrid Turing Machines. This formalism allows to design complex systems by joining quantum and classical Turing Machines. Finally, we present a study of one of the very few techniques in Quantum Testing for black boxes, called Self Testing, along with a practical experiment.
La Computación Cuántica es un área en expansión en campos como Informática, Física y Matemáticas debido a sus increíbles resultados resolviendo problemas complejos mucho más rápido que cualquier ordenador clásico. Sin embargo, las dificultades físicas que presenta la Mecánica Cuántica, añadido a la complejidad que conlleva el desarrollo de algoritmos, ha hecho que la Computación Cuántica sea muy susceptible a errores. Por tanto, asegurar la calidad de los aparatos y algoritmos va a ser de vital importancia en el futuro del campo. En este trabajo presentamos una breve introducción a la Mecánica Cuántica, seguido de un posible nuevo marco de referencia basado en un formalismo al que llamamos Maquinas de Turing Híbridas. Este formalismo permite especificar sistemas complejos juntando máquinas de Turing cuánticas y clásicas. Por último, presentamos un estudio en una de las pocas técnicas existentes en el testeo de caja negra de sistemas cuánticos, el llamado Self Testing, junto con un experimento practico.
Description
Trabajo Fin de Grado en Ingeniería Informática, Facultad de Informática UCM, Departamento de Sistemas Informáticos y Computación, Curso 2020-2021