Publication:
El Pérmico y el Triásico del Levante español. Características principales y consideraciones paleogeográficas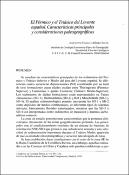 Files
Authors
Advisors (or tutors)
Editors
Publisher
Universidad Complutense de Madrid. Departamento de Estratigrafía
Abstract
Se estudian las características principales de los sedimentos del Pérmico y Triásico Inferior y Medio del área del Levante español. Se diferencian cuatro secuencias deposicionales (SD) constituidas por un total de siete formaciones cuyas edades oscilan entre Thiiringiense (Pérmico Superior) y Ladiniense o quizás Car.niense (Triásico Medio-Superior). Los sedimentos de dichas formaciones están representados en Facies «Saxonienseo (SD-i), Euntsandstein (SD-2) y Rót y Muschelkalk (SD-3 y SD-4). El análisis sedimentológico permite interpretar las SD-1 y SD-2 como depósitos de medios continentales, de diferentes tipos de sistemas aluviales, básicamente fluviales entrelazados, mientras que las SD-3 y SD-4 son interpretadas como sedimentos de transición y marinos carbonáticos someros. La zona de estudio presenta unas características que la permiten diferenciarse claramente de las zonas geográficamente próximas. Las principales son: el condicionamiento tectónico de un sistema de fracturas de orientación NNE-SSO que provocó una subsidencia acusada y una velocidad de sedimentación importante durante el Triásico Medio, aparición de nuevas unidades litoestratigráficas y variación lateral rápida de éstas. Se han establecido claras correlaciones con el resto de la zona SE de la Rama Castellana de la Cordillera Ibérica; sin embargo, aquellas realizadas con las Cuencas del Ebro y Catalana sólo pueden establecerse a partir del Anisiense ya que, hasta entonces, la cuenca de estudio estaba separada de éstas mediante el Umbral del Maestrazgo que, además, en el área de Benicasim-Desierto de Las Palmas, dejó bien marcadas las etapas de no sedimentación y erosión. [ABSTRACT] The Permian and Triassic sediments of the Spanish Lev-ant have been subdivided into four depositional sequences (SD) and seven formations ranging in age from Thúringian (Late Permian) to Ladinian-Carnian (?) (Late Triassic). The classical Saxonian (SD-1) Buntsandstein (SD-2), Rét aud Muschelkalk (SD-3 and SD-4) Facies are present. SD-l aud SD-2 are composed of continental red beds of fluvial and alluvial origin and SD-3 and SD-4 are composed of coastal and shallow marine clastie and carbonate deposits. The special characteristies of the are-a are caused by a teetonie control by NNE-SSW faults, differential subsidence (specially during the Middle Triassic) and specifie formations with rapid lateral changes of facies. Correlations with other areas of the Iberian Ranges are proposed but, as the Ebro and Catalonian Basins were isolated from the [berian Basins by the Maestrazgo High up to the Anisian, it is not possible to stablish correlations among them up to this síage. The Benicasim-Desierto de Las Palmas are-a was a high during most of the time, with periods of erosion and/or no sedimentation.
Collections