Publication:
The Wigner flow on the sphere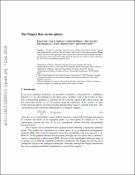 Advisors (or tutors)
Editors
Abstract
We derive a continuity equation for the evolution of the SU(2) Wigner function under nonlinear Kerr evolution. We give explicit expressions for the resulting quantum Wigner current, and discuss the appearance of the classical limit. We show that the global structure of the quantum current significantly differs from the classical one, which is clearly reflected in the form of the corresponding stagnation lines.
Description
© 2019 IOP Publishing Ltd. This work is partially supported by the Grant 254127 of CONACyT (Mexico). S. T. W. is supported by the Ministry of Science and Technology Taiwan (Grant MOST 107-2112-M-194-002. L. L. S. S. acknowledges the support of the Spanish MINECO (Grant FIS2015-67963-P).
Collections