Publication:
Estudios de invariabilidad climática y estacionalidad mediante espectroscopia láser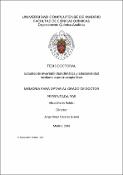 Files
Authors
Advisors (or tutors)
Editors
Publisher
Universidad Complutense de Madrid
Abstract
El objetivo principal de esta tesis es el desarrollo de una metodología analítica basada en LIBS para el estudio de muestras de origen geológico y arqueológico. La primera parte de la tesis está motivada a dilucidar la variabilidad climática y sus causas, para así poder predecir la influencia de los posibles cambios climáticos en el futuro. Para ello, se pretende obtener mediante esta metodología LIBS patrones de variabilidad paleoclimática, tales como las relaciones elementales Mg/Ca y Sr/Ca analizando la estratigrafía interanual de espeleotemas. Además, se pretende también la formación de imágenes multielementales de megapíxeles por LIBS de espeleotemas para el análisis paleoclimático. La segunda parte de la tesis consiste en un conjunto de diversos estudios basados en la espectroscopía de ablación láser con el fin de realizar el análisis de muestras de tejido de origen arqueológico, tanto tejido blando como óseo. Así, esta línea de investigación comienza con el desarrollo de una metodología para el estudio de tejido blando muscular para la determinación del intervalo post mortem. Esto lleva a querer conocer en profundidad las características de la técnica en cuanto a dinámica del plasma, utilizando las muestras anteriores, para así optimizar los análisis de tejidos posteriores. Una vez concluido este proceso se procede al estudio de tejido óseo, primero para estudios de estacionalidad, y después, para realizar la correcta asignación de restos óseos al individuo al que pertenecen, primero con muestras actuales y después, muestras de carácter arqueológico, alcanzando así el objetivo último de esta línea arqueológica de investigación...
Laser induced breakdown spectroscopy (LIBS) is an analytical technique based on the formation of a plasm by the interaction between a high-energy laser pulse and the surface of the analysed material. The subsequent spectroscopic analysis of the light emitted by the plasma allows the identification of the material. LIBS has become a widely used spectroscopic technique due to its advantages, such as its simplicity, speed of analysis and high versatility in size and sample handling. Thus, it has been demonstrated its applicability to a great variety of samples and fields of study: metal alloys, forensics, food, geochemistry, zooarchaeology, medicine, among many others. The main objective of this thesis is the development of an analytical methodology based on LIBS for the study of geological, biological and zooarchaeological samples. The development of this thesis is motivated to elucidate climatic variability, closely related to seasonality and archaeological processes. For this reason, several studies based on laser induced breakdown spectroscopy have been carried out during the development of this thesis to optimize the analysis of tissue samples from zooarchaeological origin, both soft and bone tissue. In this way, this general objective contains other specific objectives, such as obtaining elemental relationships (Mg/Ca, Sr/Ca) using the LIBS technique for the search of paleoclimatic variability patterns in speleothems, according to inter-annual stratigraphy. In addition, the formation of multi-element images of megapixels by LIBS for the analysis of speleothems has been achieved. It has also been studied the dynamics of the plasma by LIBS for the optimization of measurements and greater understanding of the samples. For this reason, other analysis techniques, such as EDX-SEM, have also been used for the study of the surface morphology of the sample. In the field of archaeology, studies have been carried out on collections of present deer bones and fossils, for the study of archaeological sites, using LIBS and chemometric methods (PCA and NN)...
Description
Tesis inédita de la Universidad Complutense de Madrid, Facultad de Ciencias Químicas, Departamento de Química Analítica, leída el 22-06-2017
Collections