Publication:
Portal web de gestión de información para estudiantes Erasmus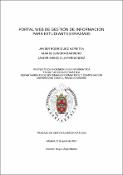 Files
Advisors (or tutors)
Editors
Abstract
Este proyecto consiste en una herramienta web capaz de gestionar toda la información relacionada con el personal académico involucrado en una beca Erasmus: tanto estudiantes como coordinadores y administradores, especialmente los primeros. La problemática que ha dado lugar a la implementación de este sistema reside principalmente en la dificultad de organizarse y comunicarse una vez una persona se instala en otro país. El portal permite el almacenamiento de toda la información académica y personal del estudiante y una visualización y gestión de información externa como pueden ser: datos sobre las ciudades, viajes, opciones de alojamiento, eventos de todo tipo, etc. A su vez fomenta la mentorización de otros estudiantes más experimentados sobre los nuevos alumnos. Para desarrollar el proyecto se ha utilizado una única base de datos gestionada sobre SQL Server Management Studio y la herramienta de diseño Visual Studio, sobre la que se ha construido el código que da lugar al portal. En el presente documento se explica el proyecto desde el punto de vista de su desarrollo en cuatro fases principales, a saber: Especificación de Requisitos, Análisis, Diseño e Implementación. Además se tratan posibles ampliaciones del mismo.
This project is a web tool of managing all information related to academic personnel involved in an Erasmus scholarship: students and coordinators and administrators, especially the first ones. The problem that has led to the implementation of this system lies mainly in the difficulty of organizing and communicating once a person settles in another country. The website allows the storage of all academic and personal student information and viewing and managing external information such as: cities information, travels, accommodation options, events of all kinds, etc. In turn fosters mentoring from more experienced students over new students. To develop the project has used a unique database managed by SQL Server Management Studio and the design tool Visual Studio, on which is built the code that leads to the website. This paper explains the project from the point of view of its development in four main phases, namely: Specification Requirements, Analysis, Design and Implementation. Further possible extensions of it are discussed.
Description
Proyecto de Sistemas Informáticos (Facultad de Informática, Curso 2013-2014)
Collections