Publication:
Nonminimal scalar-tensor theories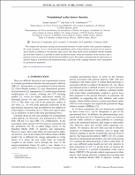 Advisors (or tutors)
Editors
Abstract
We compute the spectrum, mixing and interaction structure of scalar models with a general coupling to the scalar curvature. As it is well known the perturbative states of these theories are given by two massive spin-0 modes in addition to one massless spin-2 state. This latter mode can be identified with the standard graviton field. Indeed, it is possible to define an Einstein frame, where the dynamics of the massless spin-2 graviton is the one associated with the Einstein-Hilbert action. We explore systematically the interactions of all these degrees of freedom in the mentioned frame, since part of the coupling structure can be anticipated by geometrical arguments.
Description
© 2020 Amer Physical Soc. We are thankful to J. Beltran Jimenez and A. de la Cruz-Dombriz for very useful comments. This work has been supported by MICINN and MINECO (Spain) projects No. FIS2011-23000, No. FPA2011-27853-C0201, No. FIS2014-52837-P and No. FIS2016-78859-P (AEI/FEDER, UE), Consolider-Ingenio MULTIDARK CSD2009-00064, the Grant No. PD/BD/114435/2016 from IDPASC and FCT/MCTES through national funds (PIDDAC) by the Grant No. UID/FIS/04434/2019 and by the Project No. PTDC/FIS-OUT/29048/2017.
Collections