Publication:
Un tutor inteligente para la visualización de métodos algorítmicos y estructuras de datos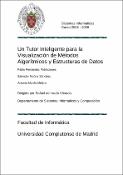 Advisors (or tutors)
Editors
Abstract
Este proyecto representa el desarrollo de una herramienta educativa que unifica las ya existentes, las cuales han Sido desarrolladas en años pasados en la asignatura de Sistemas Informáticos, Vedya y Vedya-Test, a través de una sola herramienta capaz de controlar la evolución pedagógica del alumno en la asignatura de "Estructura de Datos y de la Información". La herramienta consta de dos partes, Vedya-Alumno y Vedya-Profesor, las cuales permiten un correcto aprendizaje de dicha asignatura por parte del alumno y un control de la evolución de estos por parte del profesor. [ABSTRACT] This project represents the development of an educational tool that unify the existents tools, developed years before in the "Computer Systems" subject, Vedya and Vedya-Test, in one tool that is able to control the teaching progress of the student in the subject "Data Structures and nformation". The tool consist of two parts, Vedya-Alumno and Vedya-Profesor, which allows a correct learning of this subject by the student and a control of the progress of them by the professor.
Description
Trabajo de clase de la asignatura de Sistemas Informáticos (Facultad de Informática, Curso 2008-2009)
Collections