Publication:
Sistema de planificación para la colocación de electrodos profundos cerebrales en la evaluación prequirúrgica de la epilepsia focal mediante estereoelectroencefalografía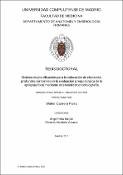 Files
Authors
Advisors (or tutors)
Editors
Publisher
Universidad Complutense de Madrid
Abstract
La epilepsia es una enfermedad cerebral crónica que se caracteriza por convulsiones recurrentes originadas por descargas eléctricas de neuronas ubicadas en zonas o estructuras situadas en las láminas de la corteza cerebral. La resección, ablación quirúrgica o radiocirugía es una opción para la epilepsia focal fármaco-resistente. La localización de la estructura o zona epileptógena (ZE) en la epilepsia focal es crucial en el contexto de la cirugía de la epilepsia. La estéreoelectroencefalografía (E-EEG) es un método invasivo para la localización tridimensional de la estructura o ZE basado en la técnica de implantación intracraneal de electrodos profundos. Objetivos El uso cada vez más frecuente de la técnica de la cirugía estereotáctica guiada por imagen ha revolucionado la técnica de implantación de electrodos profundos. Esta tesis describe una técnica quirúrgica estereotáctica novedosa para la implantación de electrodos profundos en pacientes con epilepsia focal fármaco-resistente usando estéreoelectroencefalografía para la localización de la zona epileptógena. Se informa de la evaluación prequirúrgica, sus resultados, así como la exactitud y precisión en la colocación de los electrodos profundos. Material y método 408 implantes profundos de tiras de electrodos fueron realizados en 43 pacientes aquejados de epilepsia focal fármaco-resistente usando la técnica de cirugía estereotáctica para la determinación de la estructura o zona epileptógena utilizando la estéreoelectroencefalografía. La evaluación prequirúrgica y la planificación de implantes de electrodos usando el programa Stereonauta® se realiza días antes de la intervención utilizando una resonancia potenciada en T1 3D. Esta secuencia, generalmente sagital, permite excelentes reconstrucciones en los planos axial y coronal. El protocolo no contempla el uso de contraste por lo que la visualización de los vasos sanguíneos es muy pobre...
Epilepsy is brain disorder characterized by seizures recurring electrical discharges caused by neurons located in areas or structures in the layers of the cerebral cortex. Resection, ablation surgery or radiosurgery is an option for drug-resistant focal epilepsy. A method for locating structure or epileptogenic zone (EZ) in partial epilepsy is crucial in the context of the epilepsy surgery. The stereo electroencefalography (SEEG) is an invasive method for three-dimensional location of the structure or EZ based on the intracranial depth electrodes implantation technique. Objetive The increasingly frequent use of the image-guided stereotactic surgery has revolutionized the technique of implantation of depth electrodes. This thesis describes stereotactic surgical implantation deep electrodes in patients with drug - resistant focal epilepsy using stereo electroencefalography for locating the epileptogenic zone. An exact detail of the preoperative evaluation results, the accuracy and precision in the placement of depth electrodes is reported. Material and method 408 deep implants electrode strips were performed in 43 patients suffering from drug resistant focal epilepsy using stereotactic surgery technique for determining an epileptogenic zone by stereo electroencefalography. Preoperative assessment and planning of the implants using the program Stereonauta® days is done before surgery using a resonance 3D T1. This generally sagittal sequence allows excellent reconstructions in the axial and coronal planes. The protocol does not contemplate the use of contrast so the visualization of blood vessels is very poor. However it is best placed to devise a strategy of implants in terms of conventional video EEG findings, other MR sequences and metabolism study using PET-CT with 18F-FDG glucose. The day of implantation MRI is performed in stereotactic conditions where a suitable dose of contrast (gadolinium) is administered, the sequence used is Axial T1 3D to minimize distortion. Fiducial marks for determining the stereotactic frame coordinates are visualized. Finally a TOF sequence specific for visualizing blood vessels is obtained...
Description
Tesis inédita de la Universidad Complutense de Madrid, Facultad de Medicina, Departamento de Anatomía y Embriología Humanas, leída el 04/02/2016
Collections