Publication:
El dispositivo emprendedor: Interpelación ética y producción de nuevos sujetos del trabajo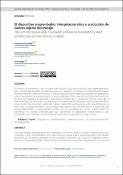 Advisors (or tutors)
Editors
Publisher
Federacion Española de Sociologia
Abstract
Asistimos actualmente a una multiplicación de prácticas de promoción del emprendimiento que, aunque desplegadas en diversos espacios y géneros, confluyen en la difusión de nuevos fundamentos de interpelación ética. El artículo propone el concepto foucaultiano de dispositivo como herramienta de acercamiento a estas prácticas. Tras describir el potencial heurístico de esta herramienta, se procede a aplicarla al estudio de la promoción de las éticas de la empreabilidad. Se destacan tres pilares que conforman dichos procesos de interpelación ética y que conforman un nuevo sujeto del trabajo: cultura de la evaluación y de la (auto)vigilancia; ethos de la responsabilidad y de la autonomía (repertorios de explicación y atribución de responsabilidades) y psicoempresarización del yo (capitalización de la subjetividad). Se identifican las tramas intertextuales que conforman el dispositivo emprendedor y que promueven una relación mercantilizada y productivista del sujeto consigo mismo.
Although being heterogeneous and deployed in different areas, a series of recent practices converge in the dissemination of a new common sense and a novel foundation for ethical questioning. The article develops the Foucauldian instrument as a device to approach these practices. Following the description of the heuristic potential of this deployment, it is used to study the promotion of entrepreneurship ethics, and more particularly: accountability ethos in a culture of (self)vigilance, repertoires of attributions of behaviors (culture of independence) and psycho-enterprising processes of the self (capitalization of subjectivity). An interwoven complex of heterogeneous practices of this apparatus are identified and the capacity of these practices to enhance dispositions to intensify the commercial and productive relation of the individual with him or herself is discussed.
Collections