Publication:
Las transformaciones materiales del libro. Mediación sociotécnica y comunicación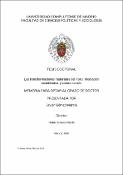 Files
Authors
Advisors (or tutors)
Editors
Publisher
Universidad Complutense de Madrid
Abstract
La presente tesis busca abordar los aparentes cambios que está sufriendo y propiciando el libro en su adaptación a los nuevos formatos digitales. Mientras para cierto sector de la sociedad, los aparatos electrónicos emergentes son un prolongación del propio libro y se entienden como aliados capaces de multiplicar su presencia,otros sectores aplican una visión un tanto más escéptica,argumentando que la lectura es una práctica en declive, y que está siendo sustituida por otros tipos de ocio más superficiales y menos constructivos. El planteamiento de este trabajo parte una cuestión muy sencilla al respecto: ¿son las experiencias textuales emergentes, (gracias al desarrollo de la informática y las telecomunicaciones)equiparables a lo que venía siendo el libro hasta hace unos años? ¿Qué cambia y qué se mantiene?Para tratar de dar respuesta a estas preguntas, es necesariodefinir el objeto con el que vamos a trabajar. Obviamente, al definirel libro lo estamos reconstruyendo y tal reconstrucción va aresponder a las necesidades concretas de este trabajo, relevandotan sólo algunas de las (casi) infinitas caras posibles del todo el asunto. Hemos optado por varios de los autores de mayor renombre en el campo de la cultura impresa / escrita, como Roger Chartier, Elizabeth Eisenstein, Adrian Johns o Peter Burke para recoger los momentos clave en la historia del libro, así como las diferentes controversias que éste ha ido registrando. Este material lo hemos analizado desde el punto de vista de la Construcción Social de la Ciencia y la Tecnología, intentando enganchar con aspectos más identitarios y afines a la agenda de los Estudios Culturales...
This work aims to address the changes that are suffering and promotingbooks in their adaptation to new digital formats. Whileto a certain sector of the society, emerging devices are an extensionof the book itself or allies capable of multiply their presence, othersectors maintain a skeptical point of view, arguing that reading is apractice in decline and that is because the book is being replacedby other more superficial and less constructive types of leisure. Thethesis arises from a simple subject: are emerging textual experiences(thanks to the development of computer and telecommunications)comparable to what the book has been for so many years? Whatchanges and what remains?First of all, we try to define the object that we are working with.Obviously, as we define the book we are rebuilding and reconstructingsomething that will respond to the specific needs of this work,relieving only some of the (almost) infinite versions of the wholething. We have chosen several of the most popular authors in thefield of printed / written culture: Roger Chartier, Elizabeth Eisenstein,Adrian Johns or Peter Burke to collect the key moments in the historyof the book, and some of its controversies. We have analyzed themfrom the perspective of the Social Construction of Science andTechnology, but trying to reach a deeper comprehension of identityand some other aspects related to the Cultural Studies' agenda...
Description
Tesis de la Universidad Complutense de Madrid, Facultad de Ciencias Políticas y Sociología, leída el 11-01-2016
Collections