Publication:
Metodologías participativas para la planificación de la sostenibilidad ambiental local. El caso de la Agenda 21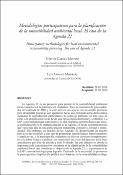 Advisors (or tutors)
Editors
Publisher
Universidad Nacional de Educacion a Distancia
Abstract
La Agenda 21 es un proyecto para promover la sostenibilidad ambiental local contando con la participación ciudadana. Tuvo su momento de gran esplendor en la década de 2000 y se convirtió en un espacio con un amplio potencial para desarrollar prácticas que apuntaran hacia una profundización democrática mediante la coproducción participativa de políticas públicas, en este caso en torno a la planificación local desde una óptica medioambiental y sostenible. La IAP, como metodología participativa, es una propuesta epistemológica que encaja perfectamente en la implementación de la Agenda 21 desde un planteamiento que vaya más allá de una participación meramente consultiva, formal o instrumental. Sin embargo, en muchas de las Agendas 21 desarrolladas en nuestro país no se ha recurrido a este tipo de propuestas metodológicas transformadoras e implicativas, y la participación ciudadana ha sido un elemento complementario a la labor técnica y política, sin convertirse en el eje del proceso, en la base articuladora que dote de sentido a todo lo demás. En este artículo se aborda la importancia de la participación ciudadana en la planificación de la sostenibilidad ambiental local, que constituye el objetivo de la Agenda 21, y la pertinencia de la IAP como metodología para lograrlo. Partiendo de la necesidad de promover la participación e implicación pública en el fomento de la sostenibilidad ecológica de los territorios, una cuestión clave que se plantea es el método para llevar a la práctica tal pretensión. En las Agendas 21 en las que hemos aplicado la IAP, se desarrolla un proceso de construcción social de conocimiento que apunta a la transformación mediante el trabajo con colectivos, asociaciones, grupos de vecinos, técnicos y representantes institucionales con sensibilidades o intereses diversos, primando la movilización hacia una implicación ciudadana que favorezca la creatividad social. Las características metodológicas de estas Agendas 21 son los rasgos propios de la adaptación de la IAP que se hizo durante el proceso en sus tres etapas (diagnóstico, planificación y ejecución) y que se evidencian en los elementos técnicos implementados.
Agenda 21 is a project aimed to promote the local environmental sustainability with the support and suggestions provided by citizen engagement. It had a time of splendor during the decade of the 2000s and became a space with a vast potential in order to develop practices that can lead to increase democratic involvement through participatory co-production of public policies, in this case, regarding local planning from a view point environmental and sustainable. IAP, as a participatory methodology, is an epistemological proposal that fits perfectly with Agenda 21 implementation, from an approach that goes beyond a purely advisory, formal or instrumental involvement. However, in many of the Agendas 21 developed in our country, this kind of methodological, transforming and engaging proposals have not been used, and therefore, citizen participation was a complementary element to the technical and political work without becoming the bedrock of the process, in the articulating basis that gives meaning to everything else. This article is addressed to highlight the relevance of the citizen participation in the local planning of environmental sustainability since this is the very hearth of the Agenda 21 target and the relevance of IAP as the proposed methodology to achieve it, in view of the necessity of promoting the public participation and engagement to foster the ecological sustainability of the lands. The key issue raised is the kind of the strategies that may be enforced in order to put such attempt into practice. In the Agendas 21 where we have applied the IAP, is taking place a social construction of knowledge aimed to promote to social changes through the work with associations, neighborhood groups, technicians and institutional representatives with various interests and sensibilities, prioritizing the mobilization of citizen participation in order to encourage social creativity. The methodological features of this Agenda 21 are the specific traits of the IAP adaptations made during the process in its three stages (diagnosis, planning and execution) which are evident in the implemented technical elements.
Collections