Publication:
Algunas aportaciones a la toma de decisiones en clasificación supervisada. Un enfoque bipolar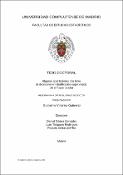 Files
Authors
Advisors (or tutors)
Editors
Publisher
Universidad Complutense de Madrid
Abstract
Las aplicaciones de la Ciencia de Datos y la Inteligencia Artificial adquieren cada vez mayor relevancia en el mundo actual. Como muchas de estas aplicaciones influyen en los procesos de toma de decisiones, en los que los decisores humanos asumen la responsabilidad de la decisión final y sus consecuencias, también existe una creciente necesidad de hacer de los seres humanos el centro del análisis de los datos. En este sentido, la interpretabilidad cobra especial importancia y, en el esfuerzo por adaptarse más a las características y la naturaleza de los humanos, los métodos de la ciencia de la información también deben tener en cuenta: i) que los humanos se comunican de manera eficiente por medio del lenguaje natural, en el que los conceptos generalmente poseen una naturaleza imprecisa e incierta; y ii) que el razonamiento humano y la toma de decisiones típicamente se basan en un balance de informaciones de carácter positivo y negativo, es decir, tienen una naturaleza dicotómica o bipolar...
The applications of Data Science and Artificial Intelligence are becoming increasingly relevant in today's world. As many of these applications influence decision-making processes, where human decision-makers take responsibility for the final decision and its consequences, there is also a growing need to make humans the center of data analysis. In this sense, interpretability takes on special importance and, in the effort to adapt more to the characteristics and nature of humans, the methods of information science must also take into account: i) that humans communicate in a way that efficient through natural language, in which concepts generally have an imprecise and uncertain nature; and ii) that human reasoning and decision-making are typically based on a balance of information of a positive and negative nature, that is, they have a dichotomous or bipolar nature ...
Description
Tesis inédita de la Universidad Complutense de Madrid, Facultad de Estudios Estadísticos, leída el 21/11/2019
Collections