Publication:
Cognitive and neural mechanisms of episodic memory reactivation: from consolidation to retrieval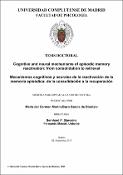 Files
Advisors (or tutors)
Editors
Publisher
Universidad Complutense de Madrid
Abstract
Introduction: Episodic memory is the result of highly dynamic processing. After encoding, the memory trace undergoes a set of transformations that range from the unconscious replay during waking rest periods to the full-blown reactivation that gives rise to our experience of recollection. The literature review reveals that, despite our knowledge of the neocorticalhippocampal circuits involved, their brain oscillatory mechanisms remain unclear. Objective: The main goal of this doctoral thesis is to track episodic memory reactivation during consolidation and retrieval by means of its oscillatory signatures. Explicitly, we aim to unveil how their underlying neural mechanisms unfold over time and space to coordinate behaviour...
Introducción: La memoria episódica es el resultado de un procesamiento altamente dinámico. Tras la codificación, el recuerdo sufre una serie de transformaciones que abarcan desde la reactivación (replay) inconsciente durante los periodos de reposo en vigilia, hasta la reactivación íntegra que da lugar a nuestra experiencia subjetiva de 'recordar' (vs. reconocer). A pesar de que conocemos las regiones cerebrales implicadas, sus mecanismos neurales oscilatorios siguen sin conocerse adecuadamente. Objetivo: El objetivo principal de esta tesis es rastrear la reactivación de la memoria episódica durante la consolidación y la recuperación a través de sus perfiles de actividad oscilatoria. En concreto, a partir de registros de Magnetoencefalografía (MEG) con participantes sanos, se pretende desvelar cómo se despliegan los mecanismos neurales subyacentes en el tiempo y el espacio para coordinar el comportamiento...
Description
Tesis de la Universidad Complutense de Madrid, Facultad de Psicología, leída el 22/03/2019
Collections