Publication:
Impact of the Madden Julian Oscillation on the summer West African monsoon in AMIP simulations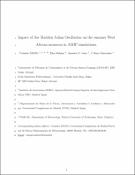 Advisors (or tutors)
Editors
Abstract
At intraseasonal timescales, convection over West Africa is modulated by the Madden Julian Oscillation (MJO). In this work we investigate the simulation of such relationship by 11 state-of-the-art atmospheric general circulation models runs with prescribed observed sea surface temperatures. In general, the Atmospheric Model Intercomparison Project simulations show good skill in capturing the main characteristics of the summer MJO as well as its influence on convection and rainfall over West Africa. Most models simulate an eastward spatiotemporal propagation of enhanced and suppressed convection similar to the observed MJO, although their signal over West Africa is weaker in some models. In addition, the ensemble average of models' composites gives a better performance in reproducing the main features and timing of the MJO and its impact over West Africa. The influence on rainfall is well captured in both Sahel and Guinea regions thereby adequately producing the transition between positive and negative rainfall anomalies through the different phases as in the observations. Furthermore, the results show that a strong active convection phase is clearly associated with a stronger African Easterly Jet (AEJ) but the weak convective phase is associated with a much weaker AEJ. Our analysis of the equatorial waves suggests that the main impact over West Africa is established by the propagation of low-frequency waves within the MJO and Rossby spectral peaks. Results from the simulations confirm that it may be possible to predict anomalous convection over West Africa with a time lead of 15-20 day.
Description
® 2017 Springer This work was supported by the Agencia Estatal Consejo Superior de Investigaciones Cientificas (CSIC) of Spain via program: I-COOP+ reference COOPA20029 and the German Federal Ministry of Education and Research (BMBF) via WASCAL (West African Science Service Center on Climate Change and Adapted Land Use) project coordinated by the Center for Development Research (ZEF, Bonn University), and implemented in a collaborative effort by West African and German partners. Additional support was provided by the Universidad Complutense de Madrid (UCM) via the collaboration between TROPA-UCM-IGEO and LPAO-SF (Laboratoire de Physique de l'Atmosphere et de l'Ocean Simeon Fongang) group: project 63 from the IX UCM Call for Cooperation and Development Projects 2012. The authors thank a lot the group TROPA (Tropical Atlantic Variability Group) from UCM for all the support they provide us to fullfill this work. The research leading to these results has received funding from the European Union Seventh Framework Programme (FP7/2007-2013) under Grant Agreement No. 603521 and the Spanish Project CGL2012-38923-C02-01. We acknowledge support from MINECO ICMAT Severo Ochoa Project SEV-2011-0087. Coumba Niang acknowledges Fundacion Mujeres por Africa for the Visiting Fellow Award at ICMAT, which has allowed to complete this work. We acknowledge the World Climate Research Programme's Working Group on Coupled Modelling, which is responsible for CMIP, and we thank the climate modelling groups for producing and making available their model outputs. For CMIP the U. S. Department of Energy's Program for Climate Model Diagnosis and Intercomparison provides coordinating support and led development of software infrastructure in partnership with the Global Organization for Earth System Science Portals. Thanks also to NOAA for providing the Outgoing Longwave Radiation (OLR) data. The authors also express their gratitude to the anonymous reviewers for their comments and suggestions.
Collections