Publication:
Régimen jurídico de los ministros de culto en la Argentina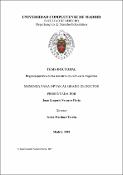 Files
Authors
Advisors (or tutors)
Editors
Publisher
Universidad Complutense de Madrid
Abstract
La presente tesis indaga acerca del concepto de ministro religioso o ministro de culto en el Derecho de la República Argentina, en una perspectiva comparada especialmente con el Derecho de los países de la región. Para ello se ha investigado tanto la legislación federal o nacional, como la legislación provincial, y la jurisprudencia existente en la materia. Y en la medida de lo posible, también se examina y da cuenta de la legislación vigente en otros países de la región. La hipótesis, que ha podido ser verificada, es que el concepto de ministro de culto es central en la construcción del Derecho Eclesiástico del Estado, dado que prácticamente todas las ramas del Derecho presentan alguna consideración respecto de las personas comprendidas en ese concepto. La pregunta es entonces si ese concepto está suficientemente definido en el Derecho argentino. La conclusión es ambigua. Se advierte en la normativa más antigua una atención casi exclusiva a los clérigos y religiosos católicos, erigidos en paradigma del ministro de culto. Con el correr del tiempo, el ordenamiento jurídico ha ido tomando razón de manera progresiva de la existencia de una variedad extensa de ministros de culto, que no solamente difieren en sus denominaciones sino en sus modos de acceder a esa condición y en su forma de relación con las confesiones religiosas a las que pertenecen. Esa verificación obliga a la construcción de un concepto abstracto de ministro de culto por parte del Derecho estatal, que es una tarea aún en desarrollo y que se ha dado con mayor eficacia en unas ramas del Derecho que en otras. La atención a la diversidad de ministros de culto, como consecuencia de la diversidad y pluralidad religiosa existente en la sociedad, se presenta como una exigencia del respeto debido a la libertad religiosa, y específicamente a la autonomía de las confesiones religiosas, que son las únicas que pueden delimitar el concepto de sus propios ministros de culto.
This thesis deals with the concept or "religious minister", or "minister of worship", in the Law of the Argentine Republic in a comparative perspective, regarding mainly the countries of Latin America. For this purpose, has been investigated both the federal or national Law, as the provincial legislation and the existing jurisprudence in both levels. And to the extent possible, also discusses and give a notice of the legislation in force in the countries of the region. The hypothesis that has been verified, it is that the concept itself of Religious Minister is crucial for the construction of the Ecclesiastical Law of the State, given that virtually all branches of the Law give some kind of consideration to the persons covered by that concept. The question then is whether this concept is sufficiently defined in Argentine law. The conclusion is ambiguous. We can find in the oldest legislation almost exclusive attention to clergy and Catholics religious, erected in paradigm of the Minister of worship. Along the time, the legal system has been taking reason in a progressive way of the existence of a vast variety of Ministers of worship, which not only differ in their denominations but in their ways of access to this condition, and in its relationship with the religious denominations to which they belong. This verification requires the construction of an abstract concept of Minister of worship by the State law, which is still on progress and which has been given more effectively in some branches of the law than in others. Attention to the diversity of Ministers of worship, as a result of the diversity and religious plurality existing in society, emerges as a requirement of respect that religious freedom deserves. Religious denominations are the only ones which can delimit the concept of their own Ministers of worship, within the frame of their autonomy.
Description
Tesis inédita de la Universidad Complutense de Madrid, Facultad de Derecho, Departamento de Derecho Eclesiástico del Estado, leída el 13-06-2017
Collections