Publication:
Chile y los desastres sísmicos: reescritura de las narrativas visuales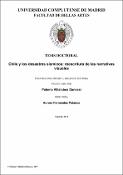 Files
Authors
Advisors (or tutors)
Editors
Publisher
Universidad Complutense de Madrid
Abstract
A partir del pensamiento con imágenes y narrativas visuales, siendo parte de ellas mi propia obra y experiencia, esta investigación gira en torno al estado de incertidumbre y fragilidad permanente que desciende de zonas del planeta que viven en alto riesgo de desastres sísmicos y catástrofes de origen natural, específicamente terremotos y tsunamis, teniendo como foco medular la memoria y el presente telúrico de Chile. La inquietud de llevar a cabo una tesis desde la práctica artística y que en la metáfora y lo fenomenológico profundice dichos matices, surge a partir de un gran archivo personal que llevo años recopilando compuesto por materiales visuales y escritos, todos ajenos, y que para ciertos trabajos y proyectos de obra, funcionan como referencias del imaginario y el discurso con que voy operando. Un compendio aleatorio y heterogéneo dotado de imágenes de prensa, de cine, de arte, noticias, poemas, videos de internet, datos científicos, entre otros, y que presta especial atención a costas arrasadas por maremotos, parajes afectados por terremotos, paisajes desaparecidos por sismos e inundaciones tsunámicas. Todos estos materiales conforman una especie de colección de paisajes alterados la cuál incorpora un alto número de imágenes del tiempo geológico, la historia climática y el pasado sísmico chileno. Una selección de estas narrativas, en conjunto a algunos de mis trabajos y vivencias, cimientan el objeto de estudio de esta tesis, el cuál va trazando y reescribiendo con todas ellas, preguntas y pensamientos epistemológicos que desde lo poético a lo económico, observan cómo la potencia de la naturaleza sísmica causa estragos sobre el paisaje y desde ahí produce consecuencias desastrosas, violentas y dolorosas a nivel físico y afectivo en el territorio, en los individuos y sus comunidades...
Using image-based thinking and visual narratives as a starting point, partly made up of my own work and experience, this research project looks into the state of permanent uncertainty and fragility that comes from areas on the planet that live at high risk of seismic disasters and naturally-caused catastrophes, specifically earthquakes and tsunamis, focussing on the memory and the telluric present in Chile. My interest in producing a thesis by means of artistic practice, which employs metaphor and the phenomenological to look deeper into such nuances, stems from a large personal archive. I have been collecting visual and written material for years, all of it by other people, and which for certain work projects functions as references of the imaginary, as well as the discourse I am developing. It is a random and heterogeneous compendium, consisting of images from the press, cinema and art, as well as news, poems, internet videos and scientific data, among others. It features, in particular, coasts battered by tidal waves, places affected by earthquakes, landscapes destroyed by seismic events and tsunami flooding. All of this material makes up a kind of collection of altered landscapes which includes a high number of images of geological time, climate history and Chile's seismic past. A selection of these narratives, along with some of my work and experiences, are the object of study for this thesis, which is sketched out and rewritten alongside these narratives, as well as epistemological questions and ideas. From the poetic to the economic, these ideas consider how the power of seismic nature ravages the landscape, and the disastrous, violent and painful consequences, both physically and in terms of the affects, on individuals and their communities...
Description
Tesis inédita de la Universidad Complutense de Madrid, Facultad de Bellas Artes, leída el 12 de septiembre de 2017; presidente, Tonia Raquejo Grado.
Collections