Publication:
Detection of branon dark matter with gamma ray telescopes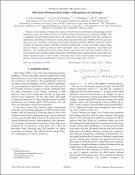 Authors
Cruz Dombriz, Álvaro de la
Advisors (or tutors)
Editors
Publisher
American Physical Society
Abstract
Branons are new degrees of freedom that appear in flexible brane-world models corresponding to brane fluctuations. These new fields can behave as standard weakly interacting massive particles (WIMPs) with a significant associated thermal relic density. We analyze the present constraints from their spontaneous annihilations into photons for Energetic Gamma-Ray Experiment Telescope (EGRET), Fermi Large Area Telescope (LAT), and Major Atmospheric Gamma-Ray Imaging Cherenkov (MAGIC) telescopes, and the prospects for detection in future Cherenkov telescopes. In particular, we focus on possible signals coming from the Galactic center and different dwarf spheroidals, such as Draco, Sagittarius, Canis Major and SEGUE 1. We conclude that for those targets, present observations are below the sensitivity limits for branon detection by assuming standard dark matter distributions and no additional boost factors. However, future experiments such as the Cherenkov Telescope Array (CTA) could be able to detect gamma-ray photons coming from the annihilation of branons with masses higher than 150 GeV.
Description
© 2012 American Physical Society. We would like to thank Daniel Nieto for useful comments. This work has been supported by Ministerio de Ciencia y Innovación (Spain) project numbers FIS 2008- 01323, FPA 2008-00592, and Consolider-Ingenio Multimessenger Approach for Dark Matter Detection (MULTIDARK) CSD2009-00064. A. d. l. C.-D. also acknowledges the University Research Council, the National Research Foundation (South Africa), and Universidad Complutense de Madrid.
Citation
[1] S. Heinemeyer et al., in International Linear Collider Physics and Detector Workshop and 2nd ILC Accelerator Workshop, Snowmass, CO, 2005, (Fermi National Accelerator Laboratory, Batavia, IL, 2005); J. A. R. Cembranos, A. Rajaraman, and F. Takayama, iv:hep-ph/0512020; Europhys. Lett. 82, 21001 (2008); J.A. R. Cembranos, A. Dobado, and A. L. Maroto, arXiv:hep-ph/0307015; J. Phys. A 40, 6631 (2007); J.A.R. CembranosA. DobadoA. L. Maroto, in International Linear Collider Physics and Detector Workshop and 2nd ILC Accelerator Workshop, Snowmass, CO, 2005, (Fermi National Accelerator Laboratory, Batavia, IL, 2005); A. Juste et al., in International Linear Collider Physics and Detector Workshop and 2nd ILC Accelerator Workshop, Snowmass, CO, 2005, (Fermi National Accelerator Laboratory, Batavia, IL, 2005); J. A. R. Cembranos et al., arXiv:hep ph/0603067; AIP Conf. Proc. 903, 591 (2007); ILC Collaboration, arXiv:0709.1893; ILC Collaboration, arXiv:0712.1950; ILC Collaboration, arXiv:0712.2356; T. E. Clark et al., Phys. Rev. D 78, 115004 (2008). [2] L. Covi, J. E. Kim, and L. Roszkowski, Phys. Rev. Lett. 82, 4180 (1999); J. L. Feng, A. Rajaraman, and F. Takayama, Phys. Rev. D 68, 085018 (2003); Int. J. Mod. Phys. D 13, 2355 (2004); J.A.R. Cembranos, J. L. Feng, and L. E. Strigari, Phys. Rev. D 75, 036004 (2007); arXiv:0708.0247; arXiv:0708.0239; J.A.R. Cembranos, J. H. Montes de Oca Y., and L. Prado, J. Phys. Conf. Ser. 315, 012012 (2011); J.A.R. Cembranos, J. L. Diaz- Cruz, and L. Prado, Phys. Rev. D 84, 083522 (2011); J. A. R. Cembranos, Phys. Rev. Lett. 102, 141301 (2009); AIP Conf. Proc. 1182, 288 (2009);Phys. Rev. D 73, 064029 (2006); AIP Conf. Proc. 1343, 604 (2011); J. Phys. Conf. Ser. 315, 012004 (2011); J.A.R. Cembranos et al., J. Cosmol. Astropart. Phys. 07 2009) 025; T. Biswas et al., Phys. Rev. Lett. 104, 021601 (2010); J. High Energy Phys. 10 (2010) 048; Phys. Rev. D 82, 085028 (2010); A. de la Cruz-Dombriz, A. Dobado, and A. L. Maroto, Phys. Rev. D 77, 123515 (2008); Phys. Rev. Lett. 103, 179001 (2009); J. B. Jimenez et al., J. Cosmol. Astropart. Phys. 10 (2009) 029; Phys. Rev. D 80, 023004 (2009); A. Abebe et al., arXiv:1110.1191. [3] K. Sigurdson and M. Kamionkowski, Phys. Rev. Lett. 92, 171302 (2004); S. Profumo, K. Sigurdson, P. Ullio, and M. Kamionkowski, Phys. Rev. D 71, 023518 (2005); M. Kaplinghat, Phys. Rev. D 72, 063510 (2005); J.A.R. Cembranos, J. L. Feng, A. Rajaraman, and F. Takayama, Phys. Rev. Lett. 95, 181301 (2005); L. E. Strigari, M. Kaplinghat, and J. S. Bullock, Phys. Rev. D 75, 061303 (2007). [4] J. A. R. Cembranos, A. Dobado, and A. L. Maroto, Phys. Rev. Lett. 90, 241301 (2003); T. Kugo and K. Yoshioka, Nucl. Phys. B594, 301 (2001); J.A.R. Cembranos, A. Dobado, and A. L. Maroto, AIP Conf. Proc. 670, 235 (2003); arXiv:hep-ph/0402142; arXiv:hep-ph/0406076; arXiv:hep ph/0411076; arXiv:astro-ph/0411262; Int. J. Mod. Phys. D 13, 2275 (2004); arXiv:astro-ph/0503622; 22nd Texas Symposium on Relativistic Astrophysics, econf C041213/1113 (2004); International Linear Collider Physics and Detector Workshop and Second ILC Accelerator Workshop, Snowmass, CO, 2005, (Fermi National Accelerator Laboratory, Batavia, IL, 2005); A. L. Maroto, Phys. Rev. D 69, 043509 (2004); 69, 101304 (2004); J.A.R. Cembranos et al., arXiv:0708.0235; J. Cosmol. Astropart. Phys. 10 (2008) 039. [5] R. Sundrum, Phys. Rev. D 59, 085009 (1999); M. Bando et al., Phys. Rev. Lett. 83, 3601 (1999); A. Dobado and A. L. Maroto, Nucl. Phys. B592, 203 (2001); J.A.R. Cembranos, A. Dobado, and A. L. Maroto, Phys. Rev. D 65, 026005 (2001); arXiv:hep-ph/0107155. [6] J. Alcaraz et al., Phys. Rev. D 67, 075010 (2003); J.A.R. Cembranos, A. Dobado, and A. L. Maroto, Phys. Rev. D 70, 096001 (2004). [7] P. Achard et al., Phys. Lett. B 597, 145 (2004). [8] P. Creminelli and A. Strumia, Nucl. Phys. B596, 125 (2001). [9] J. A. R. Cembranos, A. Dobado, and A. L. Maroto, Phys. Rev. D 73, 035008 (2006); 73, 057303 (2006). [10] L. Bergström, P. Ullio, and J. H. Buckley, Astropart. Phys. 9, 137 (1998). [11] J. A. R. Cembranos, A. de la Cruz Dombriz, A. Dobado, R. Lineros, and A. L. Maroto, Phys. Rev. D 83, 083507 (2011); AIP Conf. Proc. 1343, 595 (2011); J. Phys. Conf. Ser. 314, 012063 (2011); A. de la Cruz Dombriz and V. Gammaldi, arXiv:1109.5027. [12] J. L. Feng, K. T. Matchev, and F.Wilczek, Phys. Rev. D 63, 045024 (2001); J.A. R. Cembranos and L. E. Strigari, Phys. Rev. D 77, 123519 (2008); J.A.R. Cembranos, J. L. Feng, and L. E. Strigari, Phys. Rev. Lett. 99, 191301 (2007). [13] T. Sjostrand, S. Mrenna, and P. Skands, J. High Energy Phys. 05 (2006) 026. [14] J. A. R. Cembranos, A. de la Cruz-Dombriz, A. Dobado, R. A. Lineros, and A. L. Maroto, Phys. Rev. D 83, 083507 (2011); D. Nieto, T. Hassan, and M. Doro, computer code DAMASCO, 2011. [15] L. Bergstro¨m, T. Bringmann, M. Eriksson, and M. Gustafsson, Phys. Rev. Lett. 94, 131301 (2005); Phys. Rev. Lett. 95, 241301 (2005); A. Birkedal, K. T. Matchev, M. Perelstein et al., arXiv:hep-ph/0507194; F. Aharonian et al. (H.E.S.S. Collaboration), Phys. Rev. Lett. 97, 221102 (2006); 97, 249901(E) (2006); D. Horns (H.E.S.S. collaboration), Adv. Space Res. 41, 2024 (2008). [16] J. A. R. Cembranos, A. Dobado, and A. L. Maroto, Phys. Rev. D 68, 103505 (2003); arXiv:astro-ph/0611911; AMS Collaboration, AMS Internal Note Report No. 2003-08-02. [17] J. Aleksic´ et al. (MAGIC Collaboration), J. Cosmol. Astropart. Phys. 1106 (2011) 035. [18] J. Albert et al., Astrophys. J. 667, 358 (2007); L. Bergstöm and D. Hooper, arXiv:hep-ph/0512317v2; R. Bock, The MAGIC Telescopes: Technical Details, http:// magic.mppmu.mpg.de/introduction/techdetails.html. [19] H. U. Bengtsson, P. Salati, and J. Silk, Nucl. Phys. B346, 129 (1990). [20] W. de Boer et al., AIP Conf. Proc. 903, 607 (2007); L. Bergström et al., J. Cosmol. Astropart. Phys. 05 2006) 006. [21] W. B. Atwood et al., Astrophys. J. 697 1071 (2009). [22] A. A. Abdo et al., Astrophys. J. 712 147 (2010); M.L. Garde, Proc. Sci., IDM2010(2011) 116 [arXiv:astroph. HE/1102.5701v1].L. Bergstro¨m and D. Hooper, arXiv:hep ph/0512317v2. [23] D. Nieto et al., arXiv:1110.4744; arXiv:1109.5935. [24] G. Maier, in Proceedings of the 31st International Cosmic Ray Conference, Ło´dz´, Poland, 2009 (International Union of Pure and Applied Physics, London, 2009); T. C. Consortium, arXiv:1111.2183; CTA Consortium, Cherenkov Telescope Array (CTA): An Observatory for Ground-Based Gamma-Ray Astronomy, http://www.ctaobservatory. org/. [25] N.W. Evans, F. Ferrer, and S. Sarkar, Phys. Rev. D 69, 123501 (2004). [26] J. Aleksic et al., arXiv:1109.6781. [27] L. Bergstro¨m and D. Hooper, Phys. Rev. D 73, 063510 (2006). [28] N. Gehrels and P. Newman, The Energetic Gamma Ray Experiment Telescope (EGRET), http://heasarc.gsfc .nasa.gov/docs/cgro/egret/. [29] E. Komatsu et al. (WMAP Collaboration), Astrophys. J. Suppl. Ser. 192, 18 (2011). [30] F. Prada, A. Klypin, J. Flix Molina, M. Martı´nez, and E. Simonneau, Phys. Rev. Lett. 93, 241301 (2004). [31] P. Salucci et al., arXiv:1111.1165. DETECTION OF BRANON DARK MATTER WITH GAMMA . . . PHYSICAL REVIEW D 85, 043505 (2012) 043505-
Collections