Publication:
On the wess-zumino-witten anomalous functional at finite-temperature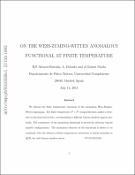 Advisors (or tutors)
Editors
Abstract
We discuss the finite temperature extension of the anomalous Wess-Zumino-Witten lagrangian. The finite temperature S1 x S3 compactification makes a structure in disconnected sectors, corresponding to different baryon numbers appear naturally. The consistency of the anomalous functional is proved for arbitrary baryon number configurations. The anomalous behavior of the functional is shown to be consistent with the absence of finite temperature corrections to chiral anomalies in QCD, for each baryon number sector.
Collections