Publication:
Sobre la enseñanza y problemática de las Ciencias Sociales en el Programa Bilingüe de la Enseñanza Secundaria. Un estudio a partir de los conceptos.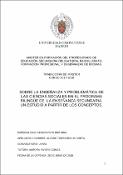 Authors
Advisors (or tutors)
Editors
Abstract
El Programa de Educación Bilingüe es un modelo de enseñanza que ha experimentado un enorme crecimiento en los últimos 10 años en cuanto al volumen de centros y alumnos bilingües y profesores habilitados. Su utilidad y deficiencias han estado en el foco de numerosos debates dentro de la opinión pública y la comunidad educativa durante años. La prolongación de éstos en el tiempo se debe a los escasos informes, estudios y publicaciones acerca de las consecuencias del Bilingüismo, lo que ha llevado a especulaciones escasamente fundamentadas y exageradas declaraciones desde ambos lados del debate. La falta de información se hace notar de forma destacada en la Enseñanza Secundaria, y particularmente en torno a materias de letras, como son las Ciencias Sociales. Este proyecto pretende ahondar precisamente en ese vacío, concretamente en el Programa Bilingüe y su relación con las Ciencias Sociales, para determinar cuáles son las problemáticas que el primero puede generar en el aprendizaje de las segundas. Este trabajo de fin de máster se plantea, por tanto, como un estudio novedoso que permita la evaluación concreta de este modelo educativo en las materias impartidas en inglés, para impulsar la corrección y correcta evolución del mismo.
The Bilingual Education Program is a teaching model that has experienced an enormous growth in the last 10 years in terms of the volume of bilingual high schools, students and qualified teachers. Its usefulness and shortcomings have been cause of numerous debates within the public opinion and the educational community for years. The prolongation of these debates over time is due to the few reports, studies and publications about the consequences of Bilingualism that had been published, which has led to poorly substantiated speculations and exaggerated statements from both sides of the debate. The lack of information is noted prominently in Secondary Education, and particularly around humanities subjects, such as Ciencias Sociales. This project aims to delve precisely into this void, specifically in the Bilingual Program and its relationship with the Ciencias Sociales, to determine the problems that the first might generate in the learning of these subjects. This master's final project is therefore considered as a novel study that allows the concrete evaluation of this educational model in the subjects taught in English, to promote its modification and correct evolution.