Publication:
Cambios medioambientales de origen antrópico en el estuario de Joyel (Cantabria) detectados mediante asociaciones vivas de foraminíferos y ostrácodos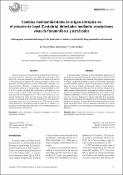 Advisors (or tutors)
Editors
Publisher
Sociedad Geológica de España
Abstract
Se han identificado 21 especies vivas de foraminíferos bentónicos y 10 de ostrácodos en dos muestreos llevados a cabo en 2013 y 2018, en la zona protegida por el dique del molino mareal de Santa Olaja en el estuario Joyel (Cantabria). La aparición de Ammonia tepida, con abundantes caparazones con malformaciones, junto con Miliolinella subrotunda y numerosos ejemplares de Rosalina, además de Loxoconcha elliptica y Aurila woutersi, señalan la eutrofización del medio en 2013. En 2018 los individuos de A. tepida carecen de deformaciones y está presente Elphidium oceanense, lo que pone de manifiesto la mejoría medioambiental tras la apertura de las compuertas del molino en 2017. El aumento de áreas ocupadas por Trochammina inflata y la disminución en riqueza y diversidad de los ostrácodos, parece ser la consecuencia del descenso en el nivel del agua embalsada debido a esta apertura. El foraminífero Balticammina pseudomacrescens ocupa, con posterioridad a 2013, los ambientes colonizados por la planta Baccharis halimifolia, que invade estuarios con importantes perturbacionesantrópicas.
Twenty-one species of living benthic foraminifera and 10 species of ostracoda have been identified in two samplings conducted in 2013 and 2018, in the area protected by the dam of the Santa Olaja tide mill in the Joyel estuary (Cantabria). The presence of Ammonia tepida, with abundant shell malformations, as well as Miliolinella subrotunda and many specimens of Rosalina, in addition to Loxoconcha elliptica and Aurila woutersi, point to the eutrophication of the environment in 2013. In 2018, A. tepida individuals lack malformations and Elphidium oceanense is present, which reveals environmental improvement after the opening of the mill floodgates in 2017. The increase of the areas occupied by Trochammina inflata and the decrease of the abundance and diversity of ostracods seem to be the consequence of the lowering of the dammed water, due to that opening. From 2013 onwards, the foraminifer Balticammina pseudomacrescens occupies the environments colonized by the plant Baccharis halimifolia, which invades estuaries with relevant anthropic disturbances.
Collections