Publication:
El metamorfismo de la Sierra Chica de Córdoba (Sierras Pampeanas). Argentina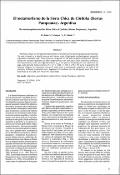 Advisors (or tutors)
Editors
Publisher
Sociedad Geológica de España
Abstract
Preliminary results on the regional metamorphism of the Sierra Chica (Sierras Pampeanas) are reported. The work is based on a detailed textural and mineral study of high-grade cordierite-garnet metapelitic migmatites of diatexitic type. Three events are recognized on the basis of garnet textural and chemical zoning: M7 probably represents an older metamorphism and took place under subsolidus conditions; M2 is synchronous to the main regional foliation (Sn+1). The peak of metamorphism was reached at this stage under granulite facies conditions (P1= 5.7 ± O.4kb, T= 820 ± 25°C). This event is assigned to the Pampean Orogeny; M3 represents a lower P-T event which is temptatively assigned to the uplift of the previously thickened continental crust. Registered P-T conditions for this retrograde event have been determined at 4±0.5kb and 775 ± 75°C respectively.
Collections