Publication:
Edge Computing on the IoT Gateway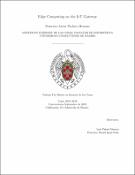 Advisors (or tutors)
Editors
Abstract
Las arquitecturas cloud tradicionales se van a enfrentar, debido a la proliferación de dispositivos IoT, a una serie de dificultades en términos de latencia, ancho de banda y seguridad. El Edge Computing se presenta como una tecnología que pretende solucionar estos problemas acercando la capacidad de cómputo al borde de la red. Para ello, el principal mecanismo es situar gateways con capacidad de cómputo en localizaciones cercanas a los sensores. Estos dispositivos realizarán inferencias sobre los datos generados para reducir el volumen de información enviada a la nube. En este trabajo se introduce ECM (Edge Computing Manager ), un entorno desarrollado para actuar como la capa de lógica dentro de un dispositivo de borde situado en el contexto de una casa conectada. Prestará servicios levantados bajo demanda, que proveerán a los usuarios de información recogida por los sensores que tengan situados a lo largo de una casa. Se probará que como dispositivo de borde se puede utilizar un dispositivo de baja prestaciones, gracias a servicios de virtualización ligera como Docker.
Traditional cloud architectures will face several problems due to the proliferation of IoT devices. This problems are mainly related to latency, bandwidth consumption and security. Edge Computing emerges as a technology that pretends to tackle this problem, by bringing computational capacities closer to the edge of the network. The main mechanism to achieve this goal is the deployment of gateways close to the sensors. The edge device will perform inference from data generated by sensors, so the amount of information sent to the cloud decreases. In this work we introduce ECM (Edge Computing Manager), a software environment developed to perform as the logical layer of an edge device, deployed in the context of house automation. It will run on-demand services which will provide users with information obtained from the sensors situated along the house. It will be proved that a low power device is suitable to act as an edge device, thanks to lightweight virtualization services such as Docker.
Description
Trabajo de Fin de Máster, Universidad Complutense, Facultad de Informática, Departamento de Arquitectura de Computadores y Automática, Curso 2018/2019