Publication:
Consejos de administración: evolución de la literatura e impacto de los códigos de gobierno corporativo en las empresas cotizadas en España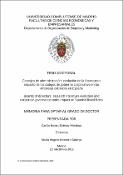 Advisors (or tutors)
Editors
Publisher
Universidad Complutense de Madrid
Abstract
El gobierno de las organizaciones ha sido una cuestión relevante desde el primer momento dela existencia de las mismas. Sin embargo, se asume normalmente que las cuestiones derivadas de la difusión de las corporaciones como las conocemos ahora y la atomización de la propiedad sirvieron de base para las primeras teorías que analizaban el gobierno corporativo. A partir de aquí, el estudio de los consejos de administración ha estado en el centro de numerosas publicaciones científicas a lo largo de los años. La importancia y el impacto en la práctica empresarial, y en la sociedad en general, alentaron un interés creciente en las últimas décadas, considerando un modelo de gobierno corporativo centrado en el consejo de administración y buscando el mejor gobierno posible para las organizaciones. Muchas contribuciones en el terreno de la investigación han sido realizadas manteniendo el foco en el consejo de administración como uno de los principales puntos de discusión sobre el gobierno corporativo. Al mismo tiempo, los problemas que implicaron a los consejos y a los directivos en conductas éticamente responsables llevaron a una variedad de propuestas que fueron a menudo canalizadas a través de nueva regulación y de códigos de buen gobierno. Estos códigos reflejan metas, difunden prácticas y están basados en principios que recibieron la influencia de las contribuciones antes referidas, y que fueron expresados en recomendaciones...
The government of organizations has been a relevant matter from the very first moment of their existence. Nevertheless, it is commonly assumed that issues coming after the diffusion of corporations as we now may identify and the atomization of property sowed the grounds of early theories that address corporate governance. Hereafter, the study on boards of directors, a key element of the governance of organizations, has been at the center of numerous scientific publications over the years. The importance and impact in business practice, and in society in general, also fostered the interest in recent decades, considering a board-centered model of corporate governance and searching for the best possible government for the organizations. Many research contributions have been made, keeping the focus on the Board of Directors as one of the main topics in the debate on Corporate Governance. Concurrently, problems that involved the boards and senior executives in deceptive behavior led to a variety of proposals that were often channeled through a new regulation or Corporate Governance Codes. These Codes reflected goals, spread practices, based on principles that were influenced by contributions, and were expressed in recommendations...
Description
Tesis de la Universidad Complutense de Madrid, Facultad de Ciencias Económicas y Empresariales, Departamento de Organización de Empresa y Marketing, leída el 28-05-2019
Collections