Publication:
La concepción del arte en la novela francesa contemporánea del artista : Grainville, Le Guillou, Houellebecq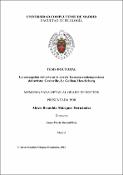 Files
Advisors (or tutors)
Editors
Publisher
Universidad Complutense de Madrid
Abstract
Este estudio se fundamenta en la posible relación causal entre el auge de la novela del artista, a partir de las dos últimas décadas del siglo XX y la crisis de la representación y vulgarización de la imagen sobrevenida con la posmodernidad. Las grandes transformaciones sociales y económicas que desembocaron en la era posmoderna afectaron de igual manera la naturaleza del conocimiento y su legitimación. La historia del arte fue diagnosticada en crisis por historiadores como Hans Belting en la década de los 80; sin embargo, los factores que este señalaba siguen estando presentes, varias de sus teorías fueron retomadas por Nella Arambasin a principios del nuevo milenio. Se ha producido un distanciamiento entre la producción artística actual y el discurso que habla de ella, causado por el apego a metodologías universalistas, basadas en una concepción clasicista e incongruente con la visión eminentemente antropológica del arte actual y su carácter autorreferencial. Ante la decepción de las expectativas creadas por la Modernidad, el presente perpetuo se plantea como única opción existencial y se extrapola en la creación artística a través del reciclaje cultural de los pasados, revisitados por los artistas contemporáneos, quienes asumen en muchos casos las funciones del historiador. Todos estos factores cuestionan la pertinencia del rol de la historia del arte en la actualidad. En este contexto, el estudio de la concepción del arte desde un discurso alternativo es una propuesta coherente que puede brindar una perspectiva distinta sobre el mundo del arte occidental y posibles respuestas a sus nuevos cuestionamientos. La novela del artista o künstlerroman, al combinar los discursos de la historia, la crítica y la historia del arte con el de la ficción tiene un impacto en cada uno de estos campos y es idónea para abordar las grandes transformaciones experimentadas por el mundo de las artes visuales en occidente dentro de la posmodernidad...
This study is based on the possible causal relationship between the rise of the artist's novel, from the last two decades of the 20th century, and the crisis of representation and popularization of the image that occurred with postmodernity. The big social and economic transformations that propitiated the postmodern era affected in the same level the knowledge fundamentals and its legitimation. The Art history was diagnosed in crisis by historians such Hans Belting in the 80's; however, the facts designated by him are still current, several of his theories were retaken by Nella Arambasin in the beginning of the new millennium. There has been a separation between current artistic production and the discourse that speaks of it, caused by the attachment to universalist methodologies, based on a classicist and incongruous conception with the highly anthropological vision of current art and its self-referential character. Given the disappointment of the expectations created by Modernity, the perpetual present is proposed as the only existential option and is extrapolated in artistic creation through the cultural recycling of the past, revisited by contemporary artists, who in many cases assume the functions of the historian. All these factors question the relevance of art history's role today. In this context, the study of the conception of art through an alternative discourse is a coherent proposal that can offer a different point of view about occidental´s art world and possible answers to its new inquiries. The artist´s novel or künstlerroman, by the combination of history, critical and Art history discourses with the fiction one has an impact in all these fields and it is ideal for the approach of the big transformations experienced by the occidental visual arts world during Postmodernity...
Description
Tesis inédita de la Universidad Complutense de Madrid, Facultad de Filología, leída el 05-09-2022
Collections