Publication:
Análisis de los conceptos de responsabilidad y deber en Iris Murdoch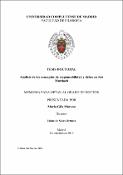 Files
Authors
Advisors (or tutors)
Editors
Publisher
Universidad Complutense de Madrid
Abstract
Iris Murdoch es reconocida tanto por su obra filosófica como literaria. Esta doble vocación marcó la trayectoria intelectual de una autora que, precisamente por su reivindicación del valor moral de la novela, afirmó siempre la autonomía de esta última en relación a sus propios intereses filosóficos. Atender a ambas vertientes de su producción es por tanto indispensable para dar cuenta de su pensamiento, aunque no existe un consenso sobre las relaciones que cabe establecer entre una y otra. La pauta para comprender dichas relaciones la podemos encontrar en el realismo que la autora abanderó en relación a su producción literaria.De este modo, si bien no hemos de buscar en esta un reflejo o una ejemplificación del perfeccionismo moral defendido en su obra filosófica, Murdoch sí presenta en sus novelas su idea de la realidad del mundo y del ser humano, con la variedad y los matices que introduce la particularidad inherente a la narración literaria...
Iris Murdoch is well known both for her philosophical and her literary work. This double vocation marks the intellectual career of an author who, parting from her vindication of the moral value of the novel, claimed its autonomy in respect to her philosophical interests.Therefore, it is essential to consider both aspects of her work to fully understand her thought. As yet there is no consensus about the connections that can be made between them. While we should not approach her literary work looking for a reflection or exemplification of the moral perfectionism she defended in her philosophic work, Murdoch presents in her novels her idea of the reality of the world and of mankind, with all the variety introduced by literary narration.This research aims to define the concept of moral responsibility characteristic of Iris Murdoch, as well as study the genesis of her idea of duty. I have taken into account both what the author assesses in her essays and the role both concepts play in her literary plots. In regards to responsibility, Murdoch's philosophical work is characterised by her defence of the capacity of the individual in this respect. Nevertheless, she never fully defined her concept of responsibility, rejecting both the absolute version of Existentialism as well as its complete disappearance due to metaphysical respects...
Description
Tesis de la Universidad Complutense de Madrid, Facultad de Filosofía, leída el 20-12-2018
Collections