Publication:
Pintura abstracta contemporánea en las galerías del Lower East Side de Nueva York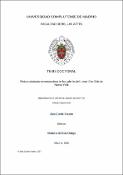 Files
Authors
Advisors (or tutors)
Editors
Publisher
Universidad Complutense de Madrid
Abstract
Como artista contemporánea que ha estudiado la licenciatura y el Máster en Bellas Artes en la City University of New York, también creo arte abstracto. Durante mis once años viviendo en la ciudad de Nueva York, podía ver que la Pintura Abstracta Contemporánea es muy prominente en las galerías de arte de la ciudad. Los Estados Unidos, especialmente Nueva York, tiene una historia muy rica en pintura abstracta, y la pintura abstracta hoy en día es una manera en la que artistas crean nuevas obras mientras son influenciados por la historia del arte, el arte contemporáneo y por elementos de la historia y del mundo actual. He investigado este tema durante años mientras que vivía en la ciudad de Nueva York,durante mis estudios allí realizados, y estando en un diálogo artístico con el arte contemporáneo abstracto de Nueva York, que ha sido una importante influencia en mi producción artística.Con el propósito de investigar este fenómeno, he usado las galerías del Lower East Side de Nueva York como un campo de studio, porque mayoritariamente representan un número de artistas emergentes y recién incorporados al Mercado del arte, que son por lo general jóvenes, no muy famosos, y toman riesgo en sus obras...
As a contemporary artist who has studied a Bachelor in Art and a Master in Fine Arts in the City University of New York I also create abstract art. During my eleven years living in New York City I could see that Contemporary Abstract Painting is very prominent in the art galleries of New York City. The United States, specially New York, has a very rich history of abstract painting, and abstract painting today is a way in which artists create new works while being influenced by art history, contemporary art, and by elements from history and the contemporary world. I have researched this topic for years while living in New York City, during my studies; being in an artistic dialog with contemporary abstract art in New York has been an important influence in my art production. In order to research this phenomenon, I have used the galleries of the Lower East Side of New York as a field of study, because they represent a number of emerging and newly established artists who are mostly young, not very famous, and take risks in their work...
Description
Tesis inédita de la Universidad Complutense de Madrid, Facultad de Bellas Artes, leída el 21 de junio de 2017
Collections