Publication:
Epidemiología de las lesiones atendidas en atención primaria en la Comunidad de Madrid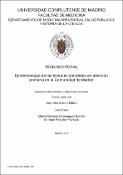 Files
Authors
Advisors (or tutors)
Domínguez Berjón, María Felicitas
Editors
Publisher
Universidad Complutense de Madrid
Abstract
El abordaje de las lesiones es uno de los mayores retos de la salud pública en la actualidad. Las lesiones no intencionales son responsables de alrededor de 3,9 millones de muertes por año, con una carga de mortalidad del 6,6% a nivel mundial. En la Comunidad de Madrid, las muertes por causas externas se posicionaron en la séptima causa, no obstante fueron la tercera en personas entre 5 a 35 años de edad. La elevada mortalidad es solo una pequeña porción del problema que estas representan. Las lesiones no intencionales son responsables de alrededor de 138 millones de años de vida perdidos ajustados por discapacidad por año a nivel mundial. En la Comunidad de Madrid, en los últimos años se ha observado una leve subida del porcentaje de altas hospitalarias debidas a causas externas. En general se ha observado mayor afectación del sexo masculino, no obstante, se ha descrito una distribución desigual entre mujeres y hombres cuando se analiza la información desagregada por tipo de lesión. Por otra parte, estudios previos realizados en diferentes países han puesto de manifiesto una especial vulnerabilidad en edades extremas, menores de 14 años y mayores de 65 años. Las personas de nivel socioeconómico bajo tienen mayor riesgo de lesionarse, de recuperarse tras haber sufrido una lesión y de morir por una lesión. Los inmigrantes suelen tener tasas más bajas de mortalidad para todas las causas específicas respecto a la población nativa, con excepción de la mortalidad por causas externas...
Nowadays, addressing injuries is one of the greatest public health challenge. Unintentional injuries are responsible for about 3.9 million of deaths per year, with a worldwide burden of mortality of 6.6%. In the Community of Madrid, deaths from external causes were positioned as the seventh cause, notwithstanding the third in people between 5 and 35 years old. The high injury mortality is only a small portion of the problem that they represent. Globally, unintentional injuries are responsible for about 138 million disability-adjusted life years. In the Community of Madrid, in the recent years there has been a slight increase in the percentage of hospital discharges due to external causes. In general, there has been a greater affectation of men, however, there is an unequal distribution between women and men when the information is analysed disaggregated by type of injury. On the other hand, previous studies conducted in different countries described a special vulnerability in extreme ages, under 14 years and over 65 years. People with lower socioeconomic status have higher risk to injury and are less likely to make a full recovery following an injury and dying by an injury...
Description
Tesis inédita de la Universidad Complutense de Madrid, Facultad de Medicina, Departamento de Medicina Preventiva, Salud Pública e Historia de la Ciencia, leída el 25/04/2017
Collections