Publication:
Ambrosio Calepino (1440-1510) y su "Dictionarium" latino del saber clásico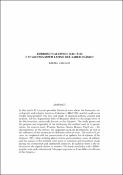 Authors
Advisors (or tutors)
Editors
Publisher
Institutum Historicum Ordinis Sancti Augustini
Abstract
Este artículo ofrece noticias históricas sobre el humanista, enciclopédico y políglota Ambrosio Calepino (1440-1510), y su trabajo como lexicógrafo erudito. El amor y el estudio de autores clásicos, antiguos y modernos, llevó a este fraile agustino de Bérgamo (Italia) a la preparación del "Dictionarium", universalmente conocido como el "Calepino". El estudio señala el propósito y la originalidad del diccionario, el método utilizado en su preparación, las fuentes utilizadas -Plauto, Tácito, Cicerón, Horacio, Virgilio, etc.-, las características de las entradas, los idiomas utilizados, su distribución, así como la influencia del diccionario en diferentes áreas culturales. El trabajo se completa con la presentación de una lista actualizada de ediciones del "Calepino" (213), sus lugares de impresión (ciudades y países), años de edición, y los nombres de los impresores, con noticias sobre revisiones y ampliaciones realizadas durante los siglos XVII y XVIII. Además se indica la edición digital o el sitio web. El estudio concluye con una nota bibliográfica y una selección de portadas reproducidas de diferentes ediciones del "Calepino".
This article provides historical news about the humanist, encyclopedic and polyglot Ambrose Calepino (1440-1510), and his work as an erudite lexicographer. The love and study of classical authors, ancient and modern, led this Augustinian friar of Bergamo (Italy) to the preparation of the "Dictionarium", universally known as the "Calepino". The study points out the purpose and originality of the dictionary, the method used in its preparation, the sources used –Plautus, Tacitus, Cicero, Horace, Virgil, etc.– the characteristics of the entries, the languages used, its distribution, as well as the influence of the dictionary in different cultural areas. The work is completed with the presentation of an updated list of editions of the "Calepino" (213), their printing places (cities and countries), years of edition, and the names of the printers, with news of revisions and extensions made during the seventeenth and eighteenth centuries. In addition there is the indication of the digital edition or website. The study concludes with a bibliographic note and a selection of title pages reproduced from different editions of the "Calepino".
Collections