Publication:
What do propositions explain? Inflationary vs. deflationary perspectives and the case of singular propositions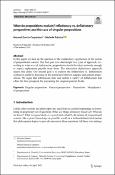 Advisors (or tutors)
Editors
Abstract
In this paper we take up the question of the explanatory significance of the notion of propositional content. Our first goal is to disentangle two types of approach: According to what we call inflationism, propositions should be taken seriously enough to expect explanatory payoffs from them. The alternative deflationary approach rejects this claim. Our second goal is to explore the inflationism vs. deflationism contrast in depth by focusing on the distinction between singular and general propositions. We argue that inflationism fails and outline a variety of deflationism that offers the best prospects for explaining the singular/general divide.
Description
CRUE-CSIC (Acuerdos Transformativos 2022)
Collections