Publication:
José de Saavedra y Salamanca, Marqués de Viana (1870-1927): riqueza rústica y nobleza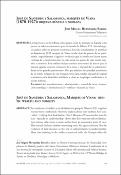 Advisors (or tutors)
Editors
Abstract
La importancia de la nobleza como grupo social de prestigio en España se ha puesto en valor recientemente para el reinado de Alfonso XIII. Sin embargo, los análisis sobre su posición económica han sido concluyentes en certificar su decadencia. El II marqués de Viana revela cómo la gestión de su patrimonio –especialmente el agrario– evidencia que los nobles no fueron meras víctimas de la modernización, no sólo desde un punto de vista social, también económico. Este análisis incluye también otros temas de interés para la historia agraria, como la evolución de la renta o el papel de los administradores en los grandes patrimonios. Más que enfatizar la capacidad económica de un noble, la figura de este marqués sirve para estudiar el papel del capital económico en la identidad nobiliaria y cómo su despliegue condicionó a la misma nobleza.
The condition of nobility as social distinctive group in Alfonso's XIII reign has recently been emphasized. However, analysis about their richness have concluded certifying their final decline. The II Marquis of Viana revealed how the state –specially its landownership– shows that they were not only modernization victims, either from a social, neither from an economical point of view. This research includes another interesting topics for agrarian history, like the evolution of land incomes or the role of administrators in landownership. More than insisting in the nobles economical skills, the Marquis offers the possibility of studying richness as a main ingredient in noble social identity and how it development influenced the nobility itself.
Collections