Publication:
Fármacos inhibidores de proteasas virales. Optimización de su relación estructura-actividad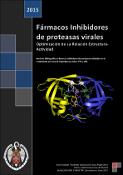 Authors
Advisors (or tutors)
Editors
Abstract
Esta revisión recopila información sobre el desarrollo y optimización de las estructuras de diferentes compuestos inhibidores de proteasas del Virus de la Inmunodeficiencia Humana (HIV) y Virus de la Hepatitis C (HCV), evaluando el panorama actual de medicamentos comercializados y diferentes líneas de investigación involucradas en el desarrollo de estos fármacos. En los distintos fármacos descritos, previa descripción de sus dianas terapéuticas y mecanismo de acción, se citan numerosas modificaciones estructurales para mejorar las características farmacodinámicas, farmacocinéticas, referentes a seguridad y a aparición de resistencias, tales como creación de nuevas interacciones enzima-sustrato, uso de bioisósteros, restricción conformacional, limitación de interacciones aminoácidos necesarios para la actividad enzimática, reducción del peso molecular, modificación a profármacos. La selección de una estructura química adecuada es el primer punto de partida en el proceso de desarrollo de un fármaco, apareciendo nuevas generaciones de fármacos con mejores perfiles de eficacia y seguridad.
In this review, the development and optimization of the structures of different protease inhibitors of Human Immunodeficience Virus and Hepatitis C Virus is summarized. The actual landscape of commercialized drugs and different on-the-pipeline or on research drugs is evaluated. After describing the therapeutic targets and the mechanism of action of these compounds, several structural modifications are described, in order to improve their pharmacodynamic, pharmacokinetic, safety and resistance characteristics: new enzyme-inhibitor interactions, bioisostere substitutions, conformational restriction, reduction of the number of interactions to backbone enzyme residues, molecular weight reduction and prodrug development. The smart design of chemical structures is the starting point of the drug development process. Subsequently, better structures lead to new drug generations with improved efficacy and safety profiles.