Publication:
Intervención enfermera en dolor crónico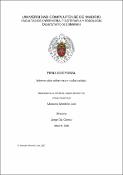 Files
Authors
Advisors (or tutors)
Editors
Publisher
Universidad Complutense de Madrid
Abstract
Estamos asistiendo a un aumento de personas con enfermedades crónicas, que requieren de una mayor intervención no solo profesional , sino de una implicación del paciente en su propia salud para afrontar y articular , de la mejor forma, los cambios necesarios en el estilo de vida para la prevención y/o control del problema. Aunque en España la primera causa de muerte la ocupan las enfermedades cardiovasculares, seguida del cáncer, y en tercer lugar las enfermedades del sistema respiratorio, el dolor se encuentra entre los problemas crónicos transversales más frecuentes. Se estima que uno de cada seis españoles sufre de dolor crónico. El dolor afecta de forma notable a la calidad de vida de la población, con importantes consecuencias en el ámbito personal, familiar y social, representando un problema de salud pública dada su gran repercusión en las diferentes esferas del ser humano. Este problema constituye uno de los motivos más frecuentes de utilización de los servicios de salud, siendo el 80% de los casos seguidos en Atención Primaria (AP). El tratamiento adecuado se compone de intervenciones farmacológicas y no farmacológicas, desde un abordaje en equipo interdisciplinar y multidisciplinar, con una visión holística del problema, donde la enfermera de Atención Primaria (AP) ocupa un lugar estratégico por su proximidad al enfermo y su familia, y como entrenadora de autocuidado, por ello este estudio pretende conocer cuál es la intervención de este profesional en el cuidado del dolor crónico...
We are witnessing an increase in the number of people with chronic diseases, who require a greater intervention not only by their healthcare professional, but also a patient's involvement in their own healthcare in order to tackle and articulate, in the best possible way, the necessary changes in lifestyle for the prevention and control of the problem. Although in Spain the first cause of death is cardiovascular disease, followed by cancer, and thirdly diseases of the respiratory system, pain is among the most frequent chronic problems. It is estimated that one in six Spanish people suffers from chronic pain. Pain notably affects the quality of life of the population, with important consequences in the personal, family and social realms, representing a public health problem given its great impact in the different spheres of the human being. Pain is also one of the most frequent reasons for the use of health services, which makes it a priority to address the variability associated with its management and the consequent impact on health outcomes, being 80% of the cases followed in Primary Care Appropriate treatment of pain consists of pharmacological and non-pharmacological interventions, from an interdisciplinary and multidisciplinary team approach, with a holistic view of the problem, where the primary care (PC) nurse occupies a strategic place because of its proximity to the patient and his family, and as a trainer in selfcare. Primary research objective To identify which of the nursing interventions of the Nursing Intervention Clasification are developed by the nurse in Primary Care of the Community of Madrid, in the care of the person with chronic pain...
Description
Tesis inédita de la Universidad Complutense de Madrid, Facultad de Enfermería, Fisioterapia y Podología, Departamento de Enfermería, leída el 10-07-2017
Collections