Publication:
Integración de conectividad Lora en dispositivos Android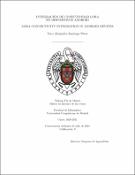 Authors
Advisors (or tutors)
Editors
Abstract
En la actualidad existen zonas o situaciones en las cuales no se dispone de cobertura móvil. Esto nos limita seriamente a la hora de comunicarnos e incluso puede llegar a ser un problema. Este problema afecta de lleno al mundo del IOT a la hora de realizar despliegues, ya que es primordial poder establecer una conexión entre los nodos desplegados. Para dar solución a esta limitación se utilizan las que son llamadas Redes de bajo consumo y largo alcance (LPWAN). Estas redes permiten dotar de conectividad a los nodos desplegados. Realizando este trabajo se pretende aportar una solución que permita disponer de conectividad inalámbrica en zonas sin cobertura. Mediante la implementación de un dispositivo IOT (un chip ESP32) con conectividad LoRa y el desarrollo de una biblioteca se permite dotar de conectividad LoRa a cualquier aplicación para dispositivos Android. Se realizará una implementación real de la solución y se probará en un entorno real.
Currently there are areas or situations in which we do not have mobile coverage. This seriously limits us when it comes to communicating and can even become a problem. This problem fully affects the IOT world when making deployments, since it is essential to be able to establish a connection between the deployed nodes. To solve this limitation, Low Power and Long Range Networks (LPWAN) are used. These networks provide connectivity to the deployed nodes. By carrying out this work, it is intended to provide a solution that allows Wireless connectivity in areas without coverage. By implementing an IOT device (an ESP32 chip) with LoRa connectivity and the development of a library, it is possible to provide LoRa connectivity to any application for Android devices. A real implementation of the solution will be made and tested in a real environment.
Description
Trabajo de Fin de Máster en Internet de las Cosas, Facultad de Informática UCM, Departamento de Arquitectura de Computadores y Automática, Curso 2021/22