Publication:
Matching of transverse momentum dependent distributions at twist-3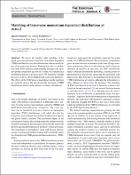 Advisors (or tutors)
Editors
Abstract
We derive the leading order matching of the quark generated polarized transverse momentum dependent (TMD) distributions onto the collinear functions at small values of the transverse distance. Starting from the very definition of the TMD operator and performing the light-cone operator product expansion up to twist-3 order, we evaluate each distribution directly in position space. We primarily consider the cases of Sivers, Boer-Mulders and worm-gear functions. The effects of the TMD process dependence on the matching are explicitly shown. We also discuss the moments of TMD distributions which can be relevant for lattice calculations.
Description
©Springer We greatly acknowledge V.Braun and A.Manashov for numerous discussions on details of higher twist calculus. We also thank Y. Koike for pointing out a mistake in the quark mass term that was in the initial version of the manuscript. I.S. is supported by the Spanish MECD grant FPA2016-75654-C2-2-P and the group UPARCOS.
Collections