Publication:
Aplicación del modelo EFQM para la mejora continua de la calidad en un servicio de farmacia hospitalaria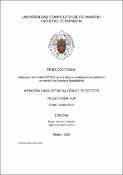 Files
Authors
Editors
Publisher
Universidad Complutense de Madrid
Abstract
El modelo sanitario español necesita seguir avanzando hacia un sistema público de calidad y hacerlo sostenible en el tiempo. La cronificación de las enfermedades, la mayor exigencia por parte de los destinatarios de los servicios y la actual situación económica, con una disponibilidad de recursos cada vez más limitada, han motivado la aplicación de herramientas sistemáticas en los Sistemas de Gestión de la Calidad (SGC) de los servicios sanitarios, con el objetivo de alcanzar una mejora continua de la calidad y una mayor eficiencia del sistema sanitario, al tiempo que permitan mejorar sus resultados. Existen numerosas herramientas de apoyo a la gestión y mejora de las organizaciones y modelos certificados de calidad que otorgan un reconocimiento a los SGC. Asimismo, el desarrollo de la calidad total ha dado lugar a la aparición de modelos de excelencia en la gestión. Entre ellos, destaca el modelo de la Fundación Europea para la Gestión de Calidad (EFQM), instrumento práctico basado en la autoevaluación del SGC, con la identificación de puntos fuertes y áreas de mejora, y caracterizado por la implicación de las personas y la gestión de los procesos orientados al cliente. El modelo se materializa en la integración de 3 componentes para la puesta en marcha de planes de acción: (i) los 8 conceptos fundamentales de la excelencia ; (ii) el modelo multidimensional basado en 9 criterios: 5 agentes facilitadores (liderazgo; política y estrategia; personas; alianzas y recursos; procesos) y 4 criterios resultado (resultados en los clientes, en las personas, en la sociedad y resultados clave); y (iii) el esquema lógico REDER: resultados, enfoque, despliegue, evaluación y revisión...
The Spanish health care model needs to continue to advance towards a quality public system and make it sustainable over time. The chronification of diseases, the greater demand on the part of the recipients of the services and the current economic situation, with an increasingly limited availability of resources, have motivated the application of systematic tools in the quality management systems (QMS) of health services with the aim of achieving a continuous improvement of the quality and greater efficiency of the health system, while allowing to improve its results. There are many tools to support the management and improvement of the organizations and certified Models of Quality that give recognition to QMS. Furthermore, the development of the total quality management has led to the emergence of models of Excellence in management. Among them, the Model of the European Foundation for Quality Management (EFQM) is a practical instrument based on the self-assessment of the QMS, with the identification of strengths and areas for improvement, and characterized by the involvement of people and the management of customer-oriented processes. The EFQM Model is materialized in the integration of 3 components for the implementation of action plans: (i) 8 fundamental concepts of excellence; (ii) the multidimensional model based on 9 criteria: 5 enablers (leadership; policy and strategy, people; partnerships and resources; processes) and 4 outcome criteria (customer results; people results, society results and business results); and (iii) the RADAR logic scheme: results, approaches, deployment, assessment and refinement...
Description
Tesis inédita de la Universidad Complutense de Madrid, Facultad de Farmacia, leída el 12-06-2017
Collections