Publication:
Lugar de destino de las actividades en línea, infracción de marcas y tribunales competentes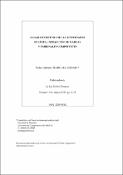 Authors
Advisors (or tutors)
Editors
Abstract
Al hilo de la reciente sentencia del Tribunal de Justicia en el asunto Lännen, se analiza la aplicación del criterio de las actividades dirigidas como elemento condicionante de la atribución de competencia judicial en litigios relativos a la infracción de marcas en línea con base en el artículo 125.5 del Reglamento (UE) 2017/1001 sobre la marca de la Unión Europea. Además, se valora críticamente la descoordinación entre la interpretación del artículo 125(5) RMUE y la del artículo 7.2 RBIbis. En relación con este último -aplicable respecto de la infracción de marcas nacionales- se valora la conveniencia de una evolución de la jurisprudencia del Tribunal de Justicia que ha venido considerando que la mera accesibilidad de los contenidos supuestamente infractores en el territorio en cuestión resulta suficiente con carácter general a los efectos de concretar el lugar de manifestación y atribuir competencia a sus tribunales en los supuestos de daños derivados de actividades en línea.
In the wake of the recent judgment of the Court of Justice in Lännen, the application of the so-called targeting criterion to establish jurisdiction under Article 125(5) of the Regulation on the European Union trade mark in disputes concerning trade mark infringement is examined. In addition, the lack of coordination between the interpretation of Article 125(5) of the EU trade mark Regulation and Article 7.2 Brussels Ia Regulation is critically assessed. With regard to the latter, which is applicable in respect of infringements of national trade marks, a development of the case law of the Court of Justice seems desirable. The idea that mere accessibility is generally decisive to establish jurisdiction under Art. 7(2) in all cases of damage arising from online activities is not convincing and the lack of coordination with the interpretation of Article 125(5) of the EU trade mark Regulation reinforces such critical assessment.
Collections