Publication:
Kosovo y Unión Europea: una secesión planificada.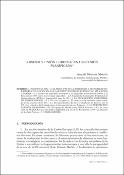 Authors
Advisors (or tutors)
Editors
Publisher
Asociación Española de Profesores de Derecho Internacional y Relaciones Internacionales
Abstract
Los hechos y documentos de base utilizados en este trabajo muestran que la UE nunca fue neutral respecto de la Resolución CSNU 1244. La actuación de las Instituciones de la UE en relación con Kosovo se planeó, al menos desde 2006, para sustituir a UNMIK y a la autoridad de Naciones Unidas por EULEX y el Representante Civil Internacional y, en definitiva, impulsar la secesión unilateral. Se demuestra que la UE de facto ha reconocido a Kosovo como Estado a pesar del acuerdo del Consejo de 18 de febrero de 2008 y en violación de los propios criterios establecidos en 1991. Europa necesita una voz única, pero la alternativa no es la imposición de los grandes Estados y prescindir de los que legítimamente se oponen en un caso muy discutido que suscita graves dudas jurídicas. No se han utilizado adecuadamente los mecanismos de diálogo interno en la UE. En el pasado, cuando no ha sido posible una voz y acción única en una materia que requería la unanimidad no se ha llevado a cabo por la UE ni se ha instrumentalizado ésta en beneficio de las posiciones de un grupo. No se puede construir la PESC ni la PESD arrollando las posiciones de cinco Estados en un asunto que muestra hasta qué punto los intereses políticos de los grandes Estados son refractarios al Derecho internacional.
The EU's decision in relation to Kosovo to replace UNMIK and the UN authority with EULEX and the Civilian International Office, and, in short, to foster unilateral secession, was planned at least as early as 2006. This article shows that the EU made a de facto recognition of Kosovo as a State despite the agreement of the Council on 18 February, 2008 and in violation of its own criteria established in 1991. Europe needs a single voice but the solution should not be the imposition of the will of the larger States and a disregard for those that legitimately oppose it. In this highly controversial case, which raises serious legal issues, the EU did not make proper use of its mechanisms for internal dialogue. In the past, when a single voice and action in a matter requiring unanimity could not be achieved, no active policy was implemented and the Union was not manipulated in benefit of the positions of one group. It is not possible to construct either the Common Foreign Security Policy (CFSP) or the Common Security and Defence Policy (CSDP) by ignoring the position of five States. This case indicates the extent to which the political interests of large states are resistant to International Law.
En ce qui concerne le Kosovo, l'intervention des institutions de l'UE a été planifiée depuis au moins 2006 afin de substituer à l'EULEX et au représentant civil international l'UNMIK et l'autorité des Nations unies et, en bref, favoriser la sécession unilatérale. Dans ce travail, l'auteur démontre que l'UE a reconnu de facto le Kosovo comme État malgré la résolution du Conseil du 18 février 2008 en violation de ses propres critères établis en 1991. L'Europe a besoin d'une seule voix mais l'alternative n'est pas l'imposition des grands États, et le fait d'exclure ceux qui s'y opposent légitimement constitue une grande controverse suscitant de sérieux doutes juridiques. Les mécanismes de dialogue interne au sein de l'UE n'ont pas été employés de manière adéquate. Dans le passé, lorsqu'une seule voix et une seule action à propos d'une matière exigeant l'unanimité devenaient impossibles, l'Union n'a pas été instrumentalisée ni une politique propre n'a été développée au bénéfice des positions d'un groupe. Ni la PESC ni la PESD (Politique de Sécurité et de Défense Commune PSDC) ne peuvent être construites en dédaignant les positions de cinq États dans une affaire qui montre jusqu'à quel point les intérêts politiques des grands États sont réfractaires au droit international.
Collections