Publication:
WSO-UV progress and expectations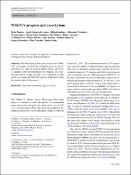 Advisors (or tutors)
Editors
Abstract
The World Space Observatory Ultraviolet (WSOUV)is the space mission that will grant access to the ultraviolet (UV) range in the post Hubble epoch. WSO-UV is equipped with instrumentation for imaging and spectroscopy and it is fully devoted to UV astronomy. In this article, we outline the WSO-UV mission model and present the current status of the project.
Citation
Boyarchuk, A.A., Shustov, B.M., Moisheev, A.A., Sachkov, M.E.: "Spektr-UF" project. Sol. Syst. Res. 47, 499 (2013) Boyarchuk, A., Savanov, I., Kanev, E., et al.: The Soviet ASTRON mission: legacy. Astrophys. Space Sci. (2014). doi:10.​1007/​s10509-014-2025-5 Gómez de Castro, A.I., Pagano, I., Sachkov, M., et al.: Science with the World Space Observatory-Ultraviolet. In: Chavez, M., Bertone, E., Rosa-Gonzalez, D., Rodrigez-Merino, L.H. (eds.) New Quests in Stellar Astrophysics. II. Ultraviolet Properties of Evolved Stellar Populations, pp. 319–327. Springer, Berlin (2009) Gómez de Castro, A.I., Maíz-Apellániz, J., Rodriguez, P., et al.: Astrophys. Space Sci. 335, 323 (2011) Gómez de Castro, A.I., Sánchez, N., Sestito, P., et al.: In: Space Telescopes and Instrumentation 2014: Ultraviolet to Gamma Ray. Proc. SPIE 8443, 84432W (2012) Gómez de Castro, A.I., García-Perea, G.B., Sánchez, N., et al.: The Imaging and Slitless Spectroscopy Instrument for Surveys (ISSIS): expected radiometric performance, operation modes and data handling. Astrophys. Space Sci. (2014). doi:10.​1007/​s10509-014-1907-x Huss, G., Tousey, R.: Reflecting coatings for the extreme ultraviolet. J. Opt. Soc. Am. 49, 593 (1959) Kappelmann, N., Barnstedt, J., Gringel, W., et al.: HIRDES UV spectrographs. In: Turner, M., Hasinger, G. (eds.) Space Telescopes and Instrumentation II: Ultraviolet to Gamma Ray. Proc. SPIE, 6266, 62660X (2006) Kappelmann, N., Barnstedt, J., Werner, K., et al.: WSO-UV spectrographs: the expected performance of HIRDES. Astrophys. Space Sci. 320, 191 (2009) Klochkova, V., Panchuk, V., Sachkov, M., Yushkin, M.: Efficiency of selected UV space based spectrometers. In: Chavez, M., Bertone, E., Rosa-Gonzalez, D., Rodrigez-Merino, L.H. (eds.) New Quests in Stellar Astrophysics. II. Ultraviolet Properties of Evolved Stellar Populations, pp. 337–340. Springer, Berlin (2009) Malkov, O., Sachkov, M., Shustov, B., et al.: Scientific program construction principles and time allocation scheme for the World Space Observatory-Ultraviolet mission. Astrophys. Space Sci. 335, 323 (2011) Panchuk, V., Yushkin, M., Fatkhullin, T., Sachkov, M.: Optical layouts of the WSO-UV spectrographs. Astrophys. Space Sci. (2014). doi:10.​1007/​s10509-014-2087-4 Reutlinger, A., Sachkov, M., Gál, C., et al.: Using the CeSiC material for the WSO-UV spectrographs. Astrophys. Space Sci. 335, 311 (2011) Sachkov, M.: UV observations of sdB stars and prospects of WSO-UV mission for such studies. Astrophys. Space Sci. 329, 261 (2010) Sachkov, M., Kochukhov, O., Ryabchikova, T., et al.: Pulsations in the atmosphere of the rapidly oscillating Ap star 10 Aquilae. Mon. Not. R. Astron. Soc. 389, 903 (2008) Sachkov, M., Shustov, B., Savanov, I., Gómez de Castro, A.I.: WSO-UV project for high-resolution spectroscopy and imaging. Astron. Nachr. 335, 46 (2014a) Sachkov, M., Shustov, B., Gómez de Castro, A.I.: WSO-UV project. Adv. Space Res. 53, 990 (2014b) Sachkov, M., Shustov, B., Gómez de Castro, A.I.: Instrumentation of the WSO-UV Project. In: Space Telescopes and Instrumentation 2014: Ultraviolet to Gamma Ray. Proc. SPIE 9144, 914402 (2014c). doi:10.​1117/​12.​2055513 Shugarov, A., Savanov, I., Sachkov, M., et al.: UV detectors for spectrographs of WSO-UV project. Astrophys. Space Sci. (2014). doi:10.​1007/​s10509-014-1911-1 Shustov, B., Sachkov, M., Gómez de Castro, A.I., et al.: WSO-UV ultraviolet mission for the next decade. Astrophys. Space Sci. 320, 187 (2009) Shustov, B., Sachkov, M., Gómez de Castro, A.I., et al.: World space observatory-ultraviolet among UV missions of the coming years. Astrophys. Space Sci. 335, 273 (2011) Vlasenko, O., Zverev, A., Sachkov, M.: Using the DP-190 glue for adhesive attachment of a large space mirror and its rim. In: Advances in Optical and Mechanical Technologies for Telescopes and Instrumentation. Proc. SPIE 9151, 91513I (2014). doi:10.​1117/​12.​2055729 Zhupanov, V., Vlasenko, O., Sachkov, M., Fedoseev, V.: New facilities for Al+MgF2 coating for 2-m class mirrors for UV. In: Space Telescopes and Instrumentation 2014: Ultraviolet to Gamma Ray. Proc. SPIE, 9144, 914435 (2014). doi:10.​1117/​12.​2055737
Collections