Publication:
Arroyos de cabecera: agricultura y calidad de hábitat. La Campiña de Villanueva del Pardillo (Madrid)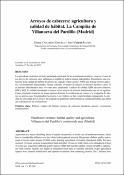 Advisors (or tutors)
Editors
Publisher
Universidad Complutense de Madrid
Abstract
La agricultura constituye un factor perturbador principal de los ecosistemas acuáticos, como es el caso de los arroyos de cabecera, cuya influencia es notable en toda la cuenca hidrográfica. Presentamos una evaluación de la calidad del hábitat de arroyos de segundo orden (escala 1:5000) que drenan terrenos agrícolas o recientemente abandonados. Hemos valorado 10 tramos de arroyos en terrenos agrarios y otros 10 en terrenos abandonados hace 10 o más años, empleando 3 índices de calidad: QBR para ríos efímeros, RBP y RQI. La calidad encontrada es mayor en los arroyos de terrenos abandonados que en los agrarios. Como principales impactos en zonas agrarias destacan la rectificación de cauces y la ocupación de riberas, en ambos casos fomentándose la erosión. Los 3 índices se han complementado mutuamente. La pérdida de sinuosidad de los arroyos ha resultado un parámetro determinante de calidad del hábitat que habrá que considerar en las evaluaciones.
Agriculture is a mayor disturbing factor of aquatic ecosystems, as in the case of headwater streams, which have a considerable influence over the whole hydrographical network. We present a habitat quality assessment of second order streams (1:5000 scale) draining agricultural or recently abandoned fields. We have assessed 10 stream sections in agricultural land and other 10 ones in fields which were abandoned at least 10 years ago, using three different quality indexes: RBP, RQI and the adapted version of QBR to ephemeral water courses. Quality was higher in abandoned fields than in currently laboured. Major agricultural impacts were channel modification and riparian occupation, both enhancing erosion. The 3 indexes have complemented each other. Stream sinuosity lost is a relevant habitat quality parameter that should be considered in future assessments.
L'agriculture constitue un des principaux facteurs perturbateurs des écosystèmes aquatiques, elle affecte spécialement les ruisseaux de haut bassin; ceux-ci aillant une considérable influence dans tout le bassin versant. Nous évaluons la qualité de l'habitat de ruisseaux d'un second ordre qui drainent des terrains agricoles ou récemment abandonnés. 10 sections de ruisseaux en terrains agraires et autres 10 dans des abandonnés depuis 10 ans ou plus, ont été mit en valeur en utilisant 3 indices de qualité: le QBR adapté à des ruisseaux éphémères, le RBP et le RQI. La qualité est supérieure dans les terrains abandonnés que dans les agraires. Il faut remarquer aussi comme principaux facteurs perturbateurs des ruisseaux en zone agraire, la rectification des cours et l'occupation des rives, en favorisant ici l'érosion. Ces indices ont démontrés être complémentaires. La perte de sinuosité des ruisseaux a été un paramètre déterminant de la qualité qui devra être tenu en compte.
Collections