Publication:
Los hogares como espacios de arraigo y sus transformaciones en un contexto global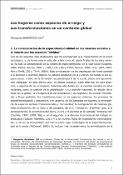 Authors
Advisors (or tutors)
Editors
Abstract
Los hogares, en tanto lugares de arraigo y apego, han sido abordados en su condición de espacios vividos y como lugar de lo propio. Pero, en un contexto de extrema fluidez e hiperflexibilidad de lo espaciotemporal, caracterizado por aceleradas recomposiciones transnacionales y translocales ¿cómo se configuran los hogares? Y, en concreto ¿cómo se articulan los hogares de los "transmigrantes", representantes de esa hipermovilidad y desterritorialización y de las dinámicas actuales en las que se entrecruzan la distancia y el tiempo? Barañano propone un enfoque integrado de las dimensiones espacio y tiempo en la vida social, sin otorgar prioridad a una dimensión sobre la otra, para estudiar las formas de convivencia y los comportamientos residenciales de las personas "transmigrantes" tratando de analizar las nuevas versiones según las cuales en estos espacios se recrean sentimientos de pertenencia y de identificación de lo propio como espacio estratégico de sus vidas.
Homes, as places of rootedness and attachment, have been approached in their condition as lived spaces and as a place of one's own. But, in a context of extreme fluidity and hyper-flexibility of the spatio-temporal, characterised by accelerated transnational and translocal recompositions, how are homes configured? And, specifically, how are the households of "transmigrants", representatives of this hypermobility and deterritorialisation and of the current dynamics in which distance and time intersect, articulated? Barañano proposes an integrated approach to the dimensions of space and time in social life, without giving priority to one dimension over the other, in order to study the forms of coexistence and residential behaviour of "transmigrants", trying to analyse the new versions according to which these spaces recreate feelings of belonging and identification of their own as a strategic space in their lives.
Collections