Publication:
Drug Repositioning as a Therapeutic Strategy against Streptococcus pneumoniae: Cell Membrane as Potential Target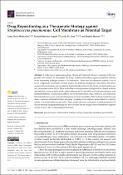 Advisors (or tutors)
Editors
Abstract
A collection of repurposing drugs (Prestwick Chemical Library) containing 1200 compounds was screened to investigate the drugs' antimicrobial effects against planktonic cultures of the respiratory pathogen Streptococcus pneumoniae. After four discrimination rounds, a set of seven compounds was finally selected, namely (i) clofilium tosylate; (ii) vanoxerine; (iii) mitoxantrone dihydrochloride; (iv) amiodarone hydrochloride; (v) tamoxifen citrate; (vi) terfenadine; and (vii) clomiphene citrate (Z, E). These molecules arrested pneumococcal growth in a liquid medium and induced a decrease in bacterial viability between 90.0% and 99.9% at 25 µM concentration, with minimal inhibitory concentrations (MICs) also in the micromolar range. Moreover, all compounds but mitoxantrone caused a remarkable increase in the permeability of the bacterial membrane and share a common, minimal chemical structure consisting of an aliphatic amine linked to a phenyl moiety via a short carbon/oxygen linker. These results open new possibilities to tackle pneumococcal disease through drug repositioning and provide clues for the design of novel membrane-targeted antimicrobials with a related chemical structure.
Collections