Publication:
Diseño y desarrollo de plataformas innovadoras para el diagnóstico de enfermedades infecciosas en ganado porcino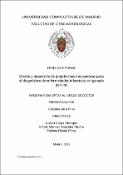 Files
Authors
Advisors (or tutors)
Editors
Publisher
Universidad Complutense de Madrid
Abstract
La industria porcina genera un tercio de la proteína de origen animal consumida mundialmente, y supone la fuente total o parcial de ingresos de millones de personas en todo el mundo, tratándose, por tanto, de un sector clave en la economía mundial. Por ello, se hace evidente la necesidad de garantizar la sostenibilidad de dicha producción, así como la seguridad alimentaria y el bienestar animal, para lo cual, un punto clave radica en el control de las enfermedades infecciosas y los agentes causales que afectan a la cabaña porcina. Durante las últimas décadas, la expansión y los cambios estructurales experimentados por este sector han hecho que los agentes patógenos aumenten su difusión y, con ello, su impacto sobre la industria. Para minimizar dicho impacto, la mejor estrategia es la prevención a través de la implementación de herramientas diagnósticas fiables que permitan trazar la evolución de los patógenos y actuar de manera temprana ante los brotes, combinado con la bioseguridad en las granjas y la utilización de vacunas...
Swine industry is the source of a third of total animal protein consumed worldwide, and it supports completely or partially the livelihood of millions of people in the world, making it a key sector for world economy. Therefore, the need to guarantee the sustainability of this industry, as well as food safety and animal wellbeing become evident, for which, a pivotal point lies in the control of infectious diseases and their causative agents. During last decades, expansion and structural changes undergone by swine industry led to a marked increase in pathogens' spread and, consequently, to an increase in their impact to the industry. To minimize this impact, the best strategy is prevention through acute diagnostic tools, which allow the tracing of pathogen evolution and to apply an early response against outbreaks, combined with the biosecurity in the farms and the use of vaccines...
Description
Tesis inédita de la Universidad Complutense de Madrid, Facultad de Ciencias Biológicas, leída el 23/07/2021
Collections