Publication:
Esclerosis múltiple y embarazo. Análisis prospectivo de biomarcadores durante embarazo y puerperio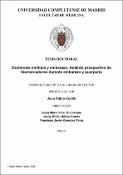 Files
Authors
Advisors (or tutors)
Editors
Publisher
Universidad Complutense de Madrid
Abstract
La esclerosis múltiple (EM) es una enfermedad inflamatoria y neurodegenerativa del SNC. Su etiología aún es desconocida. No obstante, se sabe que la presencia de ciertos factores genéticos y ambientales pueden desencadenar la enfermedad en sujetos genéticamente predispuestos. Cuando una mujer con EM se embaraza, se modifica su tasa anual de brotes habitual, observándose una disminución en la incidencia de brotes durante el tercer trimestre del embarazo, con un aumento posterior durante el primer trimestre posparto. No obstante, estas fluctuaciones en la incidencia de brotes no parecen tener una influencia a largo plazo en la evolución de la paciente. Los mecanismos intrínsecos que explican la mejoría que experimenta una paciente durante el embarazo y su potencial empeoramiento en el puerperio continúan siendo desconocidos. Objetivos: -El primer objetivo del estudio fue analizar el retraso habitual para concebir en pacientes con EM, comparado con mujeres sanas. -El segundo objetivo fue analizar la morbilidad materno-fetal que pueda suceder tras la exposición fetal a FME durante la gestación. -En tercer lugar, estudiamos prospectivamente los títulos de distintas citoquinas proinflamatorias y reguladoras, con el objetivo de cuantificar si los cambios que se producen durante el embarazo pueden relacionarse con la evolución clínica experimentadas por las pacientes. -En cuarto lugar, analizamos la cuantificación del daño axonal generado durante el embarazo y posparto mediante el análisis de los títulos de neurofilamentos en suero. -Por último, estudiamos la correlación de los todos factores sanguíneos incluidos en el estudio con la evolución clínica experimentada por las pacientes...
Multiple sclerosis (MS) is an inflammatory and neurodegenerative disease of the CNS. Its etiology remains unknown. However, it is known that the presence of specific genetic and environmental factors can trigger the disease in genetically predisposed subjects. When a woman with MS becomes pregnant, her usual annual relapse rate may change, with a decrease in relapses' incidence during the third trimester of pregnancy, with a subsequent increase during the first postpartum trimester. However, these fluctuations in disease activity do not appear to affect clinical evolution in the long term. The intrinsic mechanisms underlying the patient's improvement during pregnancy and its potential worsening in the puerperium remains unknown. Objectives: -The study's first objective was to analyze the usual time to pregnancy in patients with MS compared to healthy women. -The second objective was to explore the maternal-fetal morbidity after fetal exposure to FME during pregnancy. -Thirdly, we prospectively study the changes in different pro-inflammatory and regulatory cytokines to quantify whether the changes that occur during pregnancy can be related to the patients' clinical evolution. -Fourthly, we analyze the axonal damage generated during pregnancy and postpartum by analyzing the serum neurofilament titers prospectively in patients and healthy controls...
Description
Tesis inédita de la Universidad Complutense de Madrid, Facultad de Medicina, leída el 26/01/2021. Tesis formato europeo (compendio de artículos)
Collections