Publication:
Prevención de la anafilaxia con antígenos del anisakis simplex en un modelo animal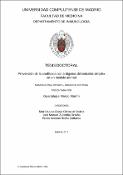 Files
Authors
Advisors (or tutors)
Editors
Publisher
Universidad Complutense de Madrid
Abstract
La anafilaxia es una reacción alérgica aguda, grave y potencialmente mortal cuya incidencia va en aumento en los últimos años en los países industrializados. Debido a su gravedad, no es posible investigar los mecanismos subyacentes en el hombre. Sin embargo, los modelos murinos han supuesto un gran avance en el conocimiento de esta patología gracias a la similitud del sistema inmunológico y los síntomas anafilácticos entre el hombre y el ratón. El cacahuete es un importante alérgeno alimentario capaz de inducir reacciones graves debido a que sus proteínas son capaces de resistir la digestión gástrica y sus epítopos son capaces de unirse a los linfocitos B y T y de activar la señalización de las células dendríticas y el complemento, induciendo una respuesta alérgica tipo Th2. Existen distintas cepas de ratón que han sido utilizadas para los estudios de las enfermedades alérgicas cuya respuesta ha demostrado ser diferente según la cepa empleada. Entre ellas, destacan la cepa BALB/c y la cepa C3H/HeOuJ, cuyos fenotipos alérgicos han permitido avanzar en el conocimiento de estas patologías. Sin embargo, hay pocos estudios que comparen las cepas entre sí. Hasta la fecha, no se han realizado estudios comparativos en estas cepas en un modelo de anafilaxia sistémica inducida por la administración de cacahuete por vía intraperitoneal (i.p.) como el que se describe a continuación por lo que este trabajo se inició con la selección de la cepa a utilizar. Los parásitos son animales invertebrados capaces de provocar enfermedades en el hombre de forma crónica. Para sobrevivir en el huésped, evolutivamente, han desarrollado mecanismos que les permitan suprimir las respuestas efectoras de éste. Además, el huésped requiere de esta modulación para evitar respuestas inmunes dañinas para el individuo por lo que esta habilidad se ha ensayado en la terapéutica alergológica...
Anaphylaxis is an accute, severe and potentially lethal alergic reaction whose incidence is increasing over the last years in industrialized countries. Due to its severity, there is no possibility to study the underlying mechanisms in humans. Thereby, murine models have posed a great advancement in building the knowledge around this pathology thanks to the similarities observed between immune system and anaphylactic symptoms in both humans and mice. Peanut is one of the main food allergens and it is responsible for one of the highest incidences of severe food allergic reactions. Peanut's proteins are known to resists digestion, comprise B-cell and T-cell epitopes and activate dendritic cells and complementary pathways, inducing a Th2 allergic response. There are diverse mice strains that have been used in the study of allergic pathologies and their responses have been variable depending on the strain initially selected. BALB/c and C3H/HeOuJ strains should be highlighted for their contribution to the advancement of these pathologies thanks to their allergic phenotypes. However, only a limited number of studies compare these two strains. In fact, there are no studies comparing both strains in a systemic anaphylaxis model induced by peanut intraperitoneal (i.p,) administration to date. Hence, selection of the strain to be used became the first step of our research plan. Parasites are invertebrate animals that may produce chronic diseases in humans. In order to survive in the host, parasites have evolved and developed mechanisms for suppressing host effector responses. Additionally, the host requires this modulation in order to avoid self-­‐harming immune responses...
Description
Tesis inédita de la Universidad Complutense de Madrid, Facultad de Medicina, Departamento de Inmunología, leída el 11/02/2016
Collections