Publication:
Incidencia de las maniobras de reanimación por un testigo en el pronóstico de los pacientes que sufren un paro cardíaco en vías y locales públicos de Madrid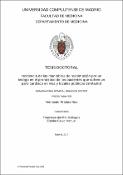 Files
Authors
Advisors (or tutors)
Editors
Publisher
Universidad Complutense de Madrid
Abstract
INTRODUCCIÓN: La presencia de un testigo que inicie las maniobras de reanimación cardiopulmonar (RCP) es un factor esencial en la supervivencia de la persona que sufra una parada cardiorrespiratoria (PCR) fuera del hospital. Así se ha destacado en trabajos, que las asociaciones que estudian la RCP, han publicado buscando el consenso en la aplicación de procedimientos. Procedimientos que van desde la actuación de este testigo reanimador a los cuidados postparada cardiaca que se aplican en la unidad de cuidados intensivos del hospital. El testigo reanimador, por lo tanto, debe ser objetivo de estudio para aplicar medidas que permitan conseguir aumentar su proporción y eficacia en las PCR fuera del hospital. Los Servicios de emergencias médicas han experimentado unos avances extraordinarios en la última década en nuestro país lo que ha permitido enfocar el manejo de la parada cardiorrespiratoria fuera del hospital con mayores posibilidades de supervivencia. Estos sistemas ofrecen unas características diferentes para cada territorio, lo que hace difícil poder comparar resultados y plantear procedimentos universales. Los programas de formación sobre reanimación cardiopulmonar constituyen una estrategia que todas las sociedades científicas recomiendan, haciendo especial mención al ciudadano o "reanimador lego", buscando que todo testigo de una parada cardiorrespiratoria actúe como reanimador, con capacidad de realizar las maniobras de masaje cardiaco y el uso del desfibrilador automático. Estos programas buscan, por consenso, secuencias de actuaciones sencillas y fáciles de recordar, para conseguir no generar discrepancias y favorecer una actuación que sabemos produce resultados en términos de supervivencia. PARADA CARDIORRESPIRATORIA: La parada cardiorrespiratoria fuera del hospital es una patología que permite demostrar la eficacia de todos los recursos del sistema sanitario. Su estudio y manejo permite, tanto a los servicios de emergencias, como a los servicios hospitalarios, conocer las posibilidades de mejora en cada uno de los eslabones de la "cadena de la vida", desde la detección y alerta del testigo, hasta los cuidados post‐reanimación. En la actualidad las nuevas recomendaciones para la detección de la PCR por el testigo determinan que si el adulto no responde y no respira o no respira con normalidad, se deben iniciar las compresiones de la RCP y por lo tanto se asume que el paciente se encuentra en parada cardiorrespiratoria, pero más correcto sería diagnosticarlo como la ausencia de latido cardiaco eficaz. En España se estima que existen unas 24.500 paradas cardirrespiratorias fuera del hospital al año, 65 casos por 100.000 habitantes al año. En Madrid capital, se producen alrededor de 300 paradas cardirrespiratorias al año, a las que se realizan maniobras de reanimación en la vía y locales públicos por los equipos médicos de SAMUR‐Protección Civil, 10 casos por cada 100.000 habitantes al año...
INTRODUCTION: A witness present who initiates cardiopulmonary resuscitation (CPR) is an essential factor in subject´s survival who suffering cardiac arrest (CPR) outside the hospital. This has been highlighted in studying associations CPR ´s publications, who have looking for a consensus in the application of procedures. Different procedures from the performance of this rescuer to the after cardiac arrest´s care applied in the intensive care unit of the hospital .The rescuer witness, therefore, should be the objective in the studies to implement measures to achieve efficiency and increase its share in out of hospital cardiac arrest (OHCA). The Emergency Medical Services have experienced extraordinary progress in the last decade in our country allowing management to focus on cardiac arrest outside the hospital with a greater survival rate. These systems offer different characteristics for each area, making it difficult to compare results and propose universal procedures. Training programs on CPR constitute a strategy that all scientific societies recommend, with particular attention to citizens or "rescuer without training" ,seeking all witness in a cardiac arrest acts like rescuer, prepared to act and make cardiac massage maneuvers and the use of the defibrillator. These programs seek consensus sequences for simple and memorable performances, not pursue discrepancies but a marked improvement in survival rates. CARDIOPULMONARY ARREST: Cardiac arrest outside the hospital (OHCA) is a condition that can prove the effectiveness of all the resources of the health system. His study and management allows both emergency services, such as hospital services, identify opportunities for improvement in each of the links in the "chain of life": the detection and alert witness, the care post‐resuscitation. In Spain it is estimated that there are about 24,500 OHCA per year, 65 cases per 100,000 population per year. In Madrid city, about 300 CPR per year, which are performed resuscitation on the road and public places for "SAMUR‐ Protección Civil" medical equipment , 10 cases per 100,000 inhabitants per year are produced...
Description
Tesis inédita de la Universidad Complutense de Madrid, Facultad de Medicina, Departamento de Medicina, leída el 20/01/2016
Collections