Publication:
Síntesis de nanoestructuras de Ru, Ni y Pt sobre soportes porosos utilizando CO₂ supercrítico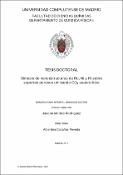 Files
Authors
Advisors (or tutors)
Editors
Publisher
Universidad Complutense de Madrid
Abstract
En esta tesis doctoral se propone la utilización de CO2 supercrítico como medio de reacción en la fabricación de materiales compuestos nanoestructurados de Ru, Ni y Pt sobre distintos soportes inorgánicos mediante deposición con uidos supercríticos. Las propiedades de los uidos supercríticos son intermedias entre las de los líquidos y las de los gases. Sus propiedades de transporte son similares a las de los gases presentando baja viscosidad, alta difusividad y tensión super cial muy baja, mientras que su poder de solvatación es próximo al de los disolventes líquidos. Por ello pueden penetrar materiales porosos como si fueran gases, a la vez que pueden impregnar los mismos con precursores, preservando la estructura del soporte. Estas propiedades pueden ser modi cadas con pequeños cambios de presión y temperatura lo que permite controlar las etapas de nucleación y crecimiento de los cristales que formarán nanopartículas, nanohilos, bras o películas nas. De entre todos los uidos supercríticos, el más utilizado tanto a nivel de investigaci ón como a escala industrial es el CO2 supercrítico. El CO2 supercrítico se considera un disolvente sostenible: tiene parámetros críticos moderados (Tc = 304,1 K, Pc = 7,4 MPa), es inocuo, barato e incombustible. Tras su uso, el CO2 puede ser fácilmente eliminado por despresurización dado que es un gas a temperatura y presión ambiente y puede ser reciclado. El CO2 que se utiliza a nivel industrial es un subproducto de reacción de otros procesos industriales como la síntesis de amoniaco, por lo que no se genera, sólo se utiliza...
In this doctoral thesis, we propose the use of supercritical CO2 as a reaction medium for the fabrication of Ru, Ni and Pt nanostructured composite materials supported onto di erent inorganic supports via supercritical uid deposition. The properties of supercritical uids are intermediate between those of liquids and gases. The transport properties are similar to gases, showing low viscosity, high di usivity and very low surface tension, meanwhile the solvation power is close to liquids. Thus, supercritical uids can penetrate porous materials like gases, and at the same time impregnate them with precursors while preserving the support structure. These properties can be tuned with small changes of pressure and temperature, so the nucleation and crystal grown steps can be controlled leading to nanoparticles, nanorods, bers or thin lms. Among all the supercritical uids, the most used at an industrial and research level is supercritical CO2. Supercritical CO2 is considered a green solvent: it has moderate critical parameters (Tc = 304,1 K, Pc = 7,4MPa), it is non-toxic, cheap and non ammable. After its use, CO2 can be easily released by simple depressurization as it is a gas at ambient pressure and temperature, and can be recycled. The CO2 used at industrial level is a reaction byproduct in other industrial processes such as the ammonia synthesis, and therefore it is not generated, only used. The Supercritical Fluids Deposition (SCFD) technique can be used to prepare supported nanostructures. Metal and metal oxides with di erent morphology (nanoparticles, nanowires or lms) can be deposited onto organic and inorganic supports. The most interesting applications of these materials include catalysis, microelectronics and optics. At nanometric scale, the phenomena associated to the atomic and molecular interactions strongly in uence the properties of the materials, leading to unique electronic, optic , electro-optic, magnetic and catalytic properties, that are often superior to the properties of the larger size objects obtained using conventional methods. However, due to the large surface energy, nanoparticles tend to aggregate. Therefore, high surface area materials are oftentimes used to support the nanoparticles. The supports prevent the aggregation and oxidation of the nanoparticles and, as a result, their intrinsic and morphological properties are preserved...
Description
Tesis inédita de la Universidad Complutense de Madrid, Facultad de Ciencias Químicas, Departamento de Química Física I, leída el 18/12/2015
Collections